Community Dinner Service at Las Vegas Rescue Mission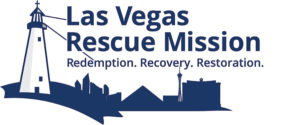 CCBA members are invited to volunteer in a group activity to benefit the individuals and families served by the Las Vegas Rescue Mission.
When [tentative]: Saturday, October 10, 2020, 4:15 p.m. to 6:15 p.m. 
Where: Las Vegas Rescue Mission, 480 W. Bonanza Rd. 89106
Note: Participation is limited to 15 members of the CCBA (including any friends and/or family).
Update (Spring 2020): Recently, the LVRM announced that is has cancelled all planned volunteer events (including our sign up to provide volunteers for the dinner service on 10/10/2020). We plan to circle back with the LVRM to set a date for our service activity. In the meantime, members may help LVRM with direct donations of items. The Las Vegas Rescue Mission is accepting essential donations of food, cleaning supplies, masks, latex gloves, toilet paper, and hygiene items. Learn more about the services they offer at visit https://vegasrescue.org/.
For more information, contact the CCBA Community Service Committee liaison Steph Abbott at StephanieAbbott@clarkcountybar.org.