Providing quality health insurance is good for employee retention, morale and it's the right thing to do. Now members of our Clark County Bar Association can do that at an even better cost.
The Clark County Bar Association Health Plans from Prominence have been designed exclusively for our organization membership. Legal practices with 2 – 50 employees can benefit from collective buying power, accessing the comprehensive health benefits and affordable premium rates typically offered to large employers.
With a CCBA Association Health Insurance Plan you can:
OFFER comprehensive health coverage for enrolled members & dependents
ACCESS the region's most loved doctors
ENROLL at any time regardless of any current health coverage
SAVE up to 30% in premium costs compared to other options
SHARE those savings with employee at your practice!
Customized Plan Designs Offering Employee Choice
There are SEVEN different health plan options are available that were carefully designed with our industry and membership in mind. Practices can offer up to THREE different health plans, so employees have a choice when it comes to what is best for them.
Health Plan Highlights
The Prominence Provider Network includes many notable and board-certified physicians throughout the state, offering members excellent access to quality medical services, including the Valley Health System.
Prominence POS and PPO health plans include national network access for use outside of Nevada.
Teladoc telemedicine for 24/7 care via telephone or video from licensed physicians, psychiatrists, and counselors for a $0 cost share. Note, High Deductible Health Plans are subject to deductible first and benefits will be rendered at the contractual service rate.
Access to the wellPORTAL Primary Care Provider Network where members can earn up to $120 in the first year for getting the care they need from the region's top doctors.
Enroll Anytime!
If your company currently has insurance through another carrier, you can work with your existing broker to enroll in a CCBA Association Health Plan – you don't have to wait for your traditional renewal period!
To Request a Quote: For a health insurance quote for you and your law firm staff, email quotes@dillonhealth.com.
To Contact Prominence: Please call 855-400-3686 or email PHPgroup-quotes@uhsinc.com
To compare plan designs, refer to the Benefit Overview below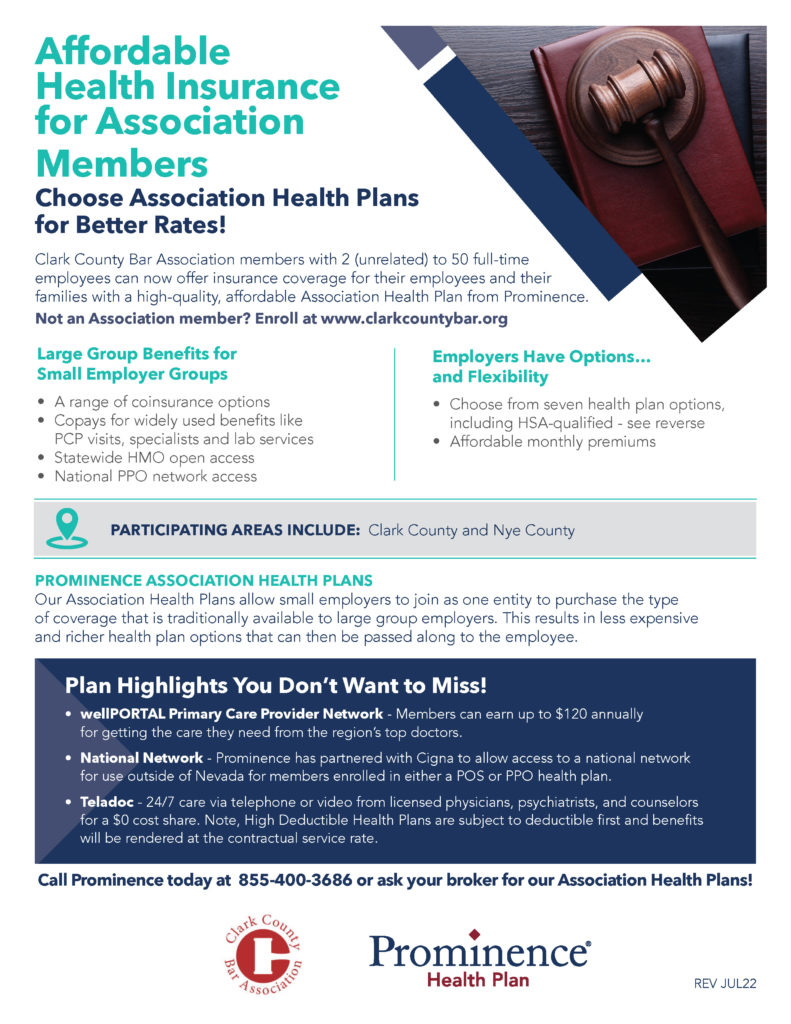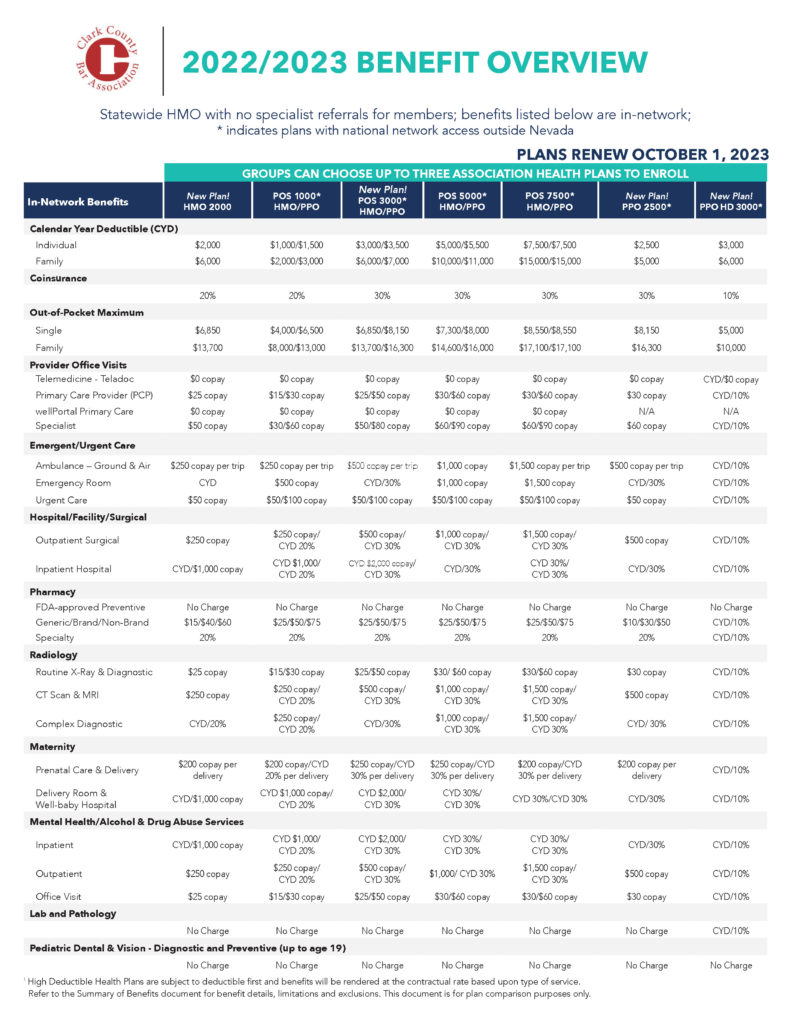 Download the benefit guide (PDF):
* High Deductible Health Plans are subject to deductible first and benefits will be rendered at the contractual rate based upon type of service.