CCBA Picture Day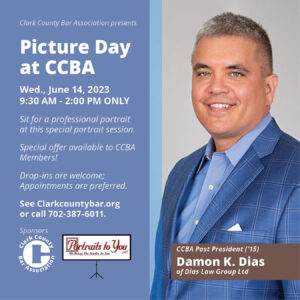 A Toast to Barbara Buckley
June 15, 2023 – No RSVP necessary; space will be limited. First come, first served.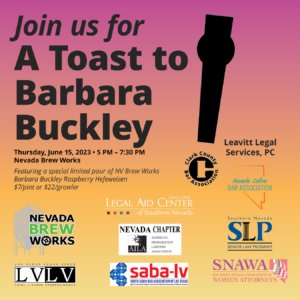 Veterans & Active Military Ask-A-Lawyer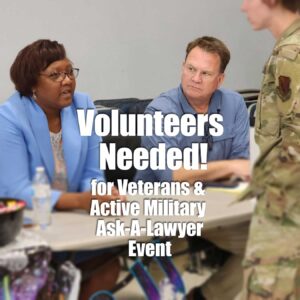 Lunchtime Learning CLE: "Improve Your Public Speaking: Be Calm, Confident and Compelling"
June 21, 2023 – RSVP by 6/19/2023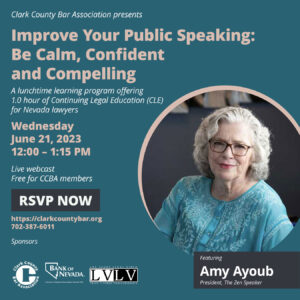 Lunchtime Learning CLE: "The 5-Star Reputation: Build Success through Ethical Marketing and Civility"
July 19, 2023 – RSVP by 7/17/2023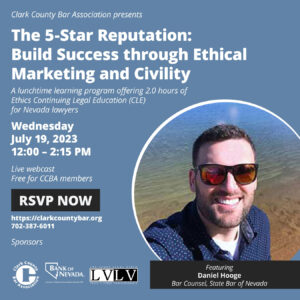 When: Wednesday, July 26, 2023
Luncheon Program: 12 to 1:00 p.m.
Where: Morton's The Steakhouse, 400 E. Flamingo Rd., Las Vegas
Entrée options: Grilled 9 oz Ribeye; Ora King Salmon Filet; Chicken Christopher; Vegetarian/Vegan Pasta w/ Grilled Vegetables
Price:$53/CCBA Member, $78/Non-member
RSVP with payment to the Clark County Bar Association required by 6/21/2023: https://clarkcountybar.org/bar-luncheon-rsvp-form/
Lunchtime Learning CLE: "ChatGPT and Other AI Tools in the Law"
August 16, 2023 – RSVP by 8/14/2023
Meet Your Judges Mixer
September 7, 2023 – RSVP by 8/17/2023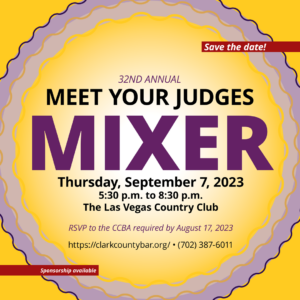 For more information about events hosted by the CCBA, contact the CCBA office at 702-387-6011.