Want to Accelerate Your Firm's Growth?
Get paid faster and more reliably with LawPay. Our easy-to-use payment solution is specifically designed to help legal professionals securely accept client payments online and improve cash flow. As a proud Clark County Bar Association member benefit provider, LawPay provides your firm with the highest levels of support, security, and IOLTA compliance. Take advantage of our limited-time offer! Sign up for LawPay by June 30 and pay no monthly fee for the rest of the year, plus the first 3 months of 2022 as your CCBA member benefit. Get started now >>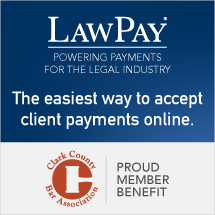 For more information, contact Donna at Clark County Bar Association, 717 S. 8th Street, Las Vegas, Nevada, 89101. Phone: (702) 387-6011.