Want to Accelerate Your Firm's Growth?
Get paid faster and more reliably with LawPay. Our easy-to-use payment solution is specifically designed to help legal professionals securely accept client payments online and improve cash flow. As a proud Clark County Bar Association member benefit provider, LawPay provides your firm with the highest levels of support, security, and IOLTA compliance.
LawPay's online payment solution allows you to offer clients a secure, convenient payment experience that helps you get paid faster and more reliably. Sign up for LawPay by August 31 and you'll pay no monthly fee for 3 months and receive a $150 processing credit. Get started now >>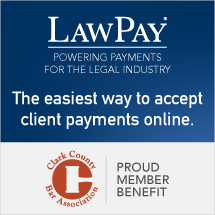 For more information, contact Donna at Clark County Bar Association, 717 S. 8th Street, Las Vegas, Nevada, 89101. Phone: (702) 387-6011.