On August 12, 2021, Chip Seigel III, the Chief Legal Officer of the Vegas Golden Knights (VGK), will make a special presentation for members of Nevada's legal community during the Clark County Bar Luncheon sponsored by Bank of Nevada, Dillon Health, Prominence Health Plan.
Charles A. "Chip" Seigel III is the new Chief Legal Officer of VGK, having joined the team in February 2021. Prior to VGK, Chip was the Chief Legal Officer of Qdoba Restaurant Corporation where he was part of a team that carved out the business from parent company Jack in the Box to become a stand-alone entity. Prior to Qdoba, Chip was the Chief Legal Officer of CKE Restaurants, parent company of Carl's Jr. and Hardee's. Chip received his accounting degree from the George Washington University and his law degree from the Washington University School of Law in St. Louis. Outside of work, Chip loves participating in all outdoor sports, especially fishing and hiking. He is also a big hockey and baseball fan and played amateur hockey through high school. Chip's favorite VGK memory is when the team made the Stanley Cup Finals in its inaugural season.
Seigel will present, "Tips for Confronting and Playing Through Risk" for the continuing legal education (CLE) of Nevada's lawyers. The presentation will include information relevant to attorneys who provide direction on major legal and regulatory issues and work to minimize legal risks for their clients.
The Clark County Bar Luncheon will be a private event with the planned agenda to be as follows:
Check-in and networking: 11:30 AM to 12:00 PM
Bar business and sponsor announcements: 12:00 to 12:15 PM
Speaker's presentation: 12:15 to 1:15 PM
Closing remarks: 1:15 PM
The Clark County Bar Luncheon will be held in person at the MacKenzie River Pizza at City National Arena, 1550 S. Pavilion Center Drive, Las Vegas, Nevada, 89135. Choices for entrée are Flank Steak, Blackened Salmon, or Vegetarian Lasagna. The fee to attend this event is $50 for CCBA member or $60 per non-member.
To attend this event, submit your name, choice of entrée, and payment to the Clark County Bar Association by Monday, August 9, 2021. Please use this web form below:
Please select a valid form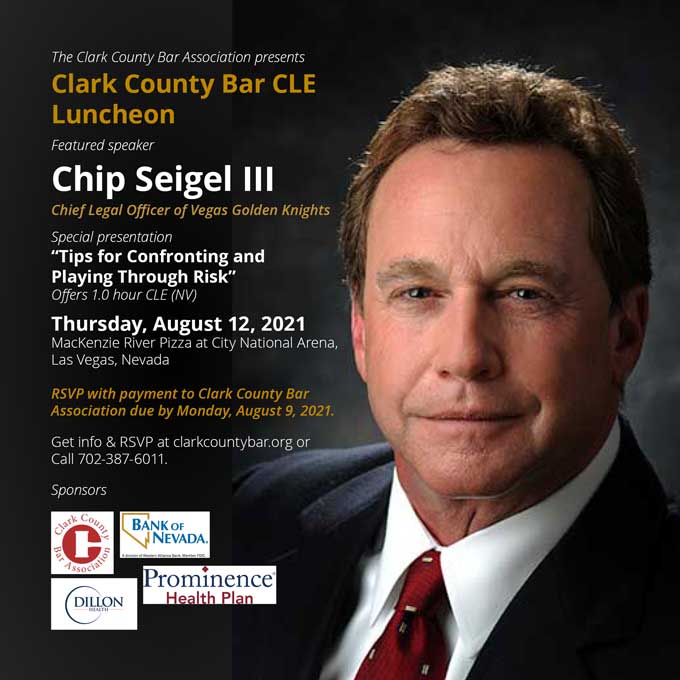 For more information, contact Donna Wiessner at Donnaw@clarkcountybar.org, (702) 387-6011.