Feature articles
"Accessing Justice: Legal Aid Center of Southern Nevada" By Michael Wendlberger, Esq.
"Accessing Justice: Southern Nevada Senior Law Program" By Diane Fearon
"Accessing Justice: Nevada Legal Services" By Yrene Chavez
"Lost Vagrants Need You!" By John Courtney, Esq.
"The Federal Pro Bono Program"
Columns
CCBA President's Message: "Three Thoughts for Success" By Nedda Ghandi, Esq.
View from the Bench: "Peering into the Crystal Ball for 2023" By Judge Melissa Saragosa
"Nevada Appellate Court Summaries (11-1-22)" By Joe Tommasino, Esq.
Highlights
Correction to 40 Year Club
Communiqué Editors Needed
Bar Luncheon Highlights
40 Year Club Luncheon
CCBA Election December 8, 2022
Meet Your Judges Mixer Highlights
Business Immigration Law CLE Program Free for CCBA Members on January 19, 2023
Business Court Bench Bar Meeting
Civil Bench Bar Meeting
Eighth Judicial District Court Administrative Order 22-12
Las Vegas Justice Court Administrative Order #22-09
Las Vegas Justice Court Administrative Order 22-08
Las Vegas Justice Court Judges' Meeting
Proposals Sought for Public Attorney for Indigent Defendants
Public Hearing in Re North Las Vegas Justice Court Rules Relating to Traffic Violations Scheduled for December 22
Departments
On the Cover: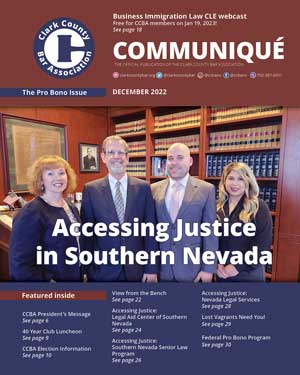 On the cover: Diane Fearon, Magistrate Judge Cam Ferenbach, Michael Wendlberger, and Yrene Chavez. Photo courtesy of Stephanie Abbott.
Advertiser Index
To see all the content, see the full issue of the Communiqué (Dec. 2022) available in either print version or PDF version (3.8 MB file to download).
Communiqué is published eleven times per year with an issue published monthly except for July by the Clark County Bar Association, P.O. Box 657, Las Vegas, NV 89125-0657. Phone: (702) 387-6011.
Communiqué accepts advertisements from numerous sources and makes no independent investigation or verification of any claim or statement made in the advertisement. All articles, letters, and advertisements contained in this publication represent the views of the authors and do not necessarily reflect the opinions of the Clark County Bar Association.
Communiqué is mailed to all paid members of CCBA, with subscriptions available to non-members for $75.00 per year. For advertising information and editorial policy, please contact Steph Abbott at (702) 387-6011 or stephabbott@clarkcountybar.org.
© 2022 Clark County Bar Association (CCBA). All rights reserved. No reproduction of any portion of this issue is allowed without written permission from the publisher. Editorial policy available upon request.