On December 17, 2020, the Clark County Bar Association (CCBA) honored volunteers and elected leaders during the CCBA's Volunteer Appreciation Luncheon and Annual Meeting sponsored by Bank of Nevada, Prominence Health Plan, and Dillon Health. The event was held online via video conference. Highlights from the event follow.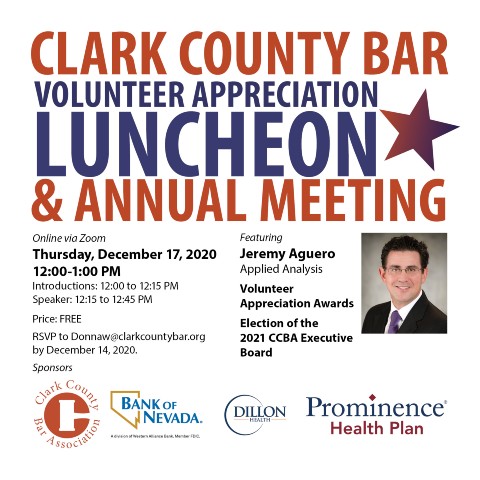 CCBA President Mariteresa Rivera-Rogers welcomed guests, presented awards to volunteers, and thanked her colleagues for their membership and support of the association during 2020. When asked to reflect on her presidency, Mariteresa responded,
It was to be a fantastic year with plans for many gatherings, an eager board and a dedicated staff. COVID 19 appeared out of nowhere and our plans had to change. We pivoted, stayed nimble, and plowed forward. Zoom? Who knew!

Mariteresa Rivera-Rogers (12/9/2020)
Featured speaker Jeremy Aguero, principal analyst at Applied Analysis, shared his thoughts about Southern Nevada's evolving economic landscape and how COVID has affected Las Vegas.
Dillon Health CEO/Employee Benefits Advisor Michael F. Dillon, Jr., CEBS, invited bar members to learn more about the Clark County Bar Association Health Plans from Prominence and to request a quote for their law firm to Quotes@DillonHealth.com.
Bar committee leaders were honored for their service including CLE Committee Chair Rob Telles, Community Service Committee Chair Paul Lal, New Lawyers Committee Co-Chairs Sunethra Muralidhara and Andrew Coates, and Publications Committee Chair Jacquelyn Franco.
Particularly active bar members were honored for their exceptional support of the CCBA during 2020:
Alia Najjar, M.D. – Volunteer of the Year
Nedda Ghandi – Outstanding Board Member
Minjia Yan – Circle of Support Award for the Community Service Committee
Sunethra Muralidhara – Circle of Support Award for the New Lawyers Committee
Brittnie T. Watkins, LL.M., Ph.D. – Circle of Support Award for the Publications Committee
After the awards were presented, CCBA President-Elect James Harper thanked Mariteresa and honored her for her service to the association. Harper will serve as CCBA President during 2021.
During the luncheon, CCBA members were encouraged to vote electronically for the 2021 CCBA Executive Board. Later that day, the results of the election were completed.
Elected to serve as directors were incumbents Heather Anderson-Fintak of Southern Nevada Health District, Joel Henriod of Lewis Roca Rothgerber Christie LLP, and Paul C. Ray of Paul C. Ray, Chartered. Also elected to serve as a director was Paul J. Lal of Boies Schiller Flexner LLP. They will serve with colleagues on the CCBA Executive Board.