As I look forward to what 2022 will bring, I cannot help but reflect on the past year. I find myself trying to make sense of the continuing ordeal that we have all been living through. Many of us have experienced loss over the past couple of years. Those losses vary for each of us. Some have experienced the very emotional and difficult loss of loved ones. Some have experienced economic loss or medical issues. All of us have experienced the loss of life experiences—from the mundane, going out with friends or to the movies, to the monumental, such as weddings, funerals, or graduations. Many of us feel as though life was placed on hold for over a year. We repeatedly have thought that we were moving forward back towards "normal" only to have a new hurdle placed in the way.
The weight of these losses can become very heavy if we do not remember to also look for our blessings in these moments in order to lighten the load. As we continue to navigate through the current events impacting our everyday lives, it is critical that we continue to choose to see the good. I choose to find ways to celebrate our collective resilience. I choose to recognize the everyday heroes among us. I choose to resolve to develop new strategies for connection and practice.
The pandemic has brought the practice of law at least one significant benefit—firms had to develop processes for working remotely. In the years prior to the pandemic, I was an advocate for technological advancements in the practice of law but also could not imagine a fully remote office. We were set up for remote work and did have two lawyers but an entire office remote was a different thought completely. While I look forward to the return to in-person consultations and court appearances, I am grateful that the Pandemic opened our eyes to the flexibility that was possible when we utilize technology.
Telephonic court appearances, virtual client consultations, Zoom depositions, remotely working from home, and flexible schedules can all be incorporated in some manner as we emerge out of the Pandemic (whenever that may be).
Moving forward into 2022, I hope that we find a balance between our past and present. May we find a balance between the ways things were done "before" and the new methods of practice that we have developed in the past two years. May we continue to navigate through this positively and with ingenuity.
About the author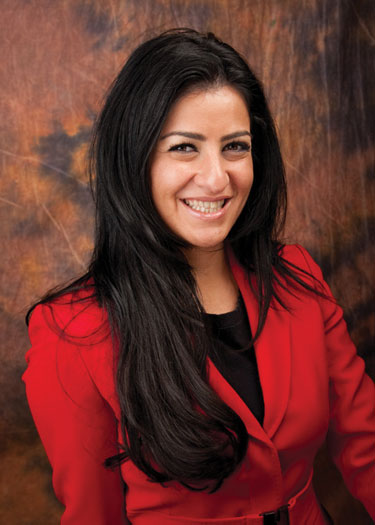 Nedda Ghandi, Esq. is a partner with Ghandi Deeter Blackham Law Office. Nedda's primary practice area involves bankruptcy for both individual and business debtors. She also litigates complex family law cases that often involve family-owned businesses or complicated financial battles. Nedda serves as the president of the Clark County Bar Association through December 2022.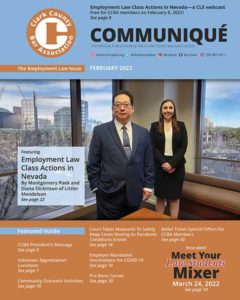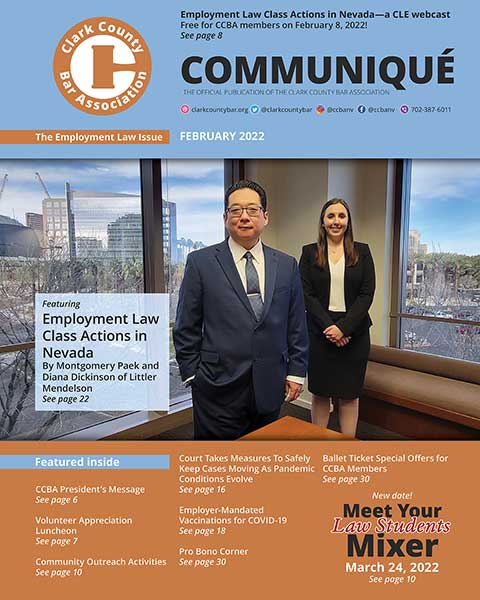 © 2022 Clark County Bar Association (CCBA). All rights reserved. No reproduction of any portion of this issue is allowed without written permission from the publisher. Editorial policy available upon request.