On Thursday, March 18, 2021, members of Nevada's legal community will be addressed by Dr. Mel Pohl, Senior Medical Consultant of Landmark Recovery, Las Vegas, during the Clark County Bar Luncheon sponsored by Bank of Nevada, Dillon Health, and Prominence Health Plan.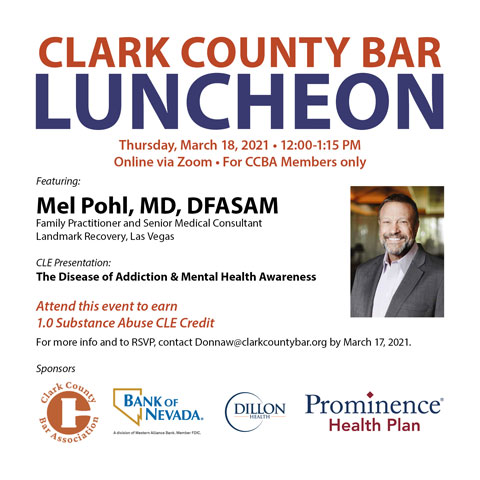 Mel Pohl, MD, DFASAM is a Family Practitioner. He is the Senior Medical Consultant of Landmark Recovery, Las Vegas. Dr. Pohl is a Clinical Assistant Professor in the Department of Psychiatry and Behavioral Sciences at the University of Nevada School of Medicine.
He is the author of A Day without Pain, revised edition (Central Recovery Press, 2011) and The Pain Antidote-Stop Suffering from Chronic Pain, Avoid Addiction to Painkillers, and Reclaim Your Life (DaCapo, 2015). Dr. Pohl filmed a show for PBS on chronic pain which aired around the country in 2016.
Dr. Pohl will present on the topic of "The Disease of Addiction & Mental Health Awareness." The presentation will offer 1.0 Substance CLE credit to CCBA members only. Pricing of the CLE is included with the 2021 CCBA membership.
The Clark County Bar Luncheon will be held via video conference. The planned agenda will be as follows:
Introductions & Bar Business: 12:00 to 12:10 pm
Speaker CLE Presentation: 12:10 to 1:10 pm
Questions & Closing: 1:10 to 1:15 pm
This event is for CCBA members only.
CCBA membership will be verified upon RSVP. During the event, attendance will be taken and only those members in attendance will have their attendance reported to the NV CLE Board.
For more information and to RSVP for this event, complete the RSVP form below.
[wpforms id="9699″]