The inaugural luncheon of the Clark County Diversity & Inclusion Committee for Equity ("DICE") occurred on Thursday, October 21 at the Golden Nugget. This was a live event, with streaming participants by Zoom, which made for a festive occasion with many participants able to reconnect with old friends.
A panel discussion was held during lunch to discuss current topics of diversity in the legal profession and questions from the audience were taken. The panelist included members of the bar and bench, as well as Lora Picini, Senior Vice President of Diversity Inclusion and Talent Management at Everi, a gaming equipment and financial technology provider, and Nedda Ghandi President Elect of the Clark County Bar Association.
In response to questioning of positive and negative experiences regarding diversity and inclusion, Las Vegas City Attorney Bryan Scott was able to share his positive experiences, of outreach to diverse youths and students interested in the profession of law. On the negative side, Mr. Scott received affirmative responses from members of the audience when asked if they ever personally experienced disaffirming conduct, actions, and speech from other attorneys, clients, and judges. To counter these experiences the panel discussed the need for empathy amongst the profession and an awareness of others around us. District Court Judge Tierra Jones commented that diversity is needed at all levels, not just with judges and attorneys. Failing to achieve this impacts the public's access to justice and the court system's ability to empathize with different individual's interests and claims.
The panelists discussed accomplishments being made in the profession, with Mr. Scott indicating that when he commenced the City Attorney post, there were no attorneys of color in the office. This has changed. Ms. Picini added to this that studies have clearly shown that companies and businesses who have not recognized the importance of and who have not implemented diversity and inclusion programs have done so to their own economic disadvantage. Nonetheless, our own figures show that there is room for improvement. A 2021 demographic study of the 9,054 active members of the State Bar of Nevada solicited the following 6,908 responses of member racial identification:
Native American:        37      0.5%
Asian:              305     4.4%
Black / African American:   189     2.7%
Caucasian:          5,646       82%
Hispanic / Latino / Latina: 366     5.3%
Middle Eastern:     51      0.7%
Mixed Race:         167     2.4%
Pacific Islander:       26      0.4%
Other:              121     1.8%
Advice to law practices and companies seeking to implement diversity and inclusion initiatives and education included, avenues of information gathering, such as focus groups and anonymous surveys, to implementing programs for hiring, training, mentoring, and retention. As Judge Jones phrased it "It's not a one time thing."
In closing, all members of the bar and work place need to feel welcome and involved, including those new to these discussion. A too common problem is people getting in trouble or being chastised and not knowing why when insensitive actions or comments are made.
DICE was organized and implemented in 2021 with the help of the CCBA Past President ('20) Mariteresa Rivera-Rogers who was instrumental in getting the committee up and running. Without her adding DICE onto the CCBA's board agenda in September 2020, the committee would be nowhere close to what we have accomplished today. In addition to her efforts, several members of the bar from a broad spectrum of backgrounds and experiences have joined together to develop relevant content and activities for the CCBA. We are proud of our achievements to date. Please look for announcements about DICE events to be scheduled in 2022.
About the author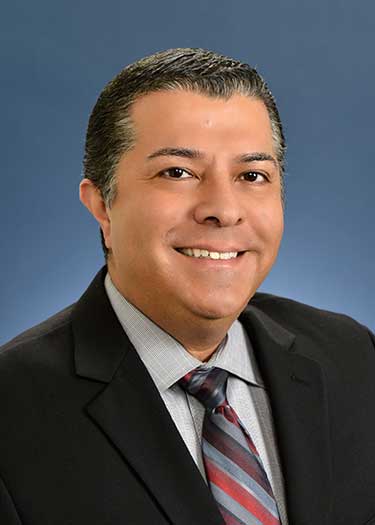 Michael J. Nuñez, Esq., Senior Partner and the Partner-in-Charge of Murchison & Cumming, LLP's Las Vegas office, brings a unique background to his practice, being both an experienced trial lawyer and experienced appellate lawyer.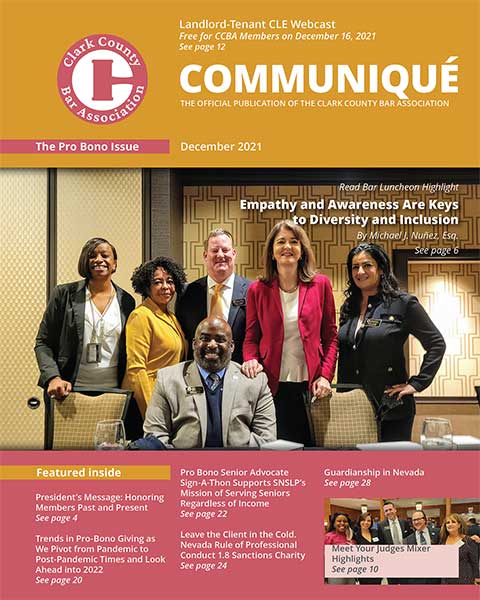 © 2021 Clark County Bar Association (CCBA). All rights reserved. No reproduction of any portion of this issue is allowed without written permission from the publisher. Editorial policy available upon request.