"Hang in There!"—Nevada's Gaming and Hospitality Industry Faces the COVID-19 Crisis
By Jennifer J. Gaynor, Esq.
We've all seen the posters and memes with the cute little orange kitten, hanging on to a screen door with all of its might, with the inspirational message "Hang in There!" That kitten could well represent the gaming and hospitality industry today, given the unprecedented COVID-19 global pandemic and the associated shutdowns of casinos and other gaming properties across not only Nevada, but the world.
The gaming and hospitality industry, much like the travel industry, has been hit especially hard by the business closures mandated by the COVID-19 pandemic. According to mid-March estimates from the American Gaming Association, nearly 616,000 casino gaming and resort employees nationally are out of work due to casino closures, including some 206,000 workers in Nevada. As noted by US senator from Nevada, Catherine Cortez Masto, during discussions about the COVID-19 economic recovery package, "[Nevada's] hospitality industry generates nearly $68 billion annually and supports more than 450,000 jobs across the state."
In the short term, the industry is scrambling to simply sustain itself through the crisis: industry representatives and elected officials in the areas that are hardest-hit, including Nevada, have reached out to the federal government to get disaster relief for the gaming and hospitality industry. These efforts are a work in progress.
To the dismay of the gaming industry, the Paycheck Protection Program, the loan program administered by the Small Business Administration as part of the Coronavirus Aid, Relief and Economic Security (CARES) Act to help small businesses weather the COVID-19 shutdowns, has language that means it cannot be utilized by small businesses that make more than one-third of their revenue from gaming. Nevada's representatives and the gaming industry are working to correct this.
What about the long term? Although it is difficult to look to the future when the future is so uncertain, it is clear that the industry, and Las Vegas in particular, is still gambling on a rosier future. All it takes is a walk down the eerily silent Las Vegas Strip to see that many of the brick and mortar construction projects are continuing to move forward, such as the expanded Las Vegas Convention Center, Resorts World, the new Virgin casino renovations, and, of course, the Las Vegas Raiders stadium project at the south end of the strip.
Perhaps more importantly, we've seen several of southern Nevada's largest gaming and casino companies step up on behalf of their workers during this crisis. For example, Joe Asher, the CEO for William Hill's US operations, created a foundation to help furloughed William Hill employees and is donating his salary to it. Similarly, a number of Wynn Resorts executives and board members are giving up at least a third of their salaries in exchange for stock as a way to free up much-needed cash during the crisis and to demonstrate that they are invested in the company's future. Wynn Resorts also announced at the time of the March shutdowns that it plans to keep paying employees for 30 days at Wynn Las Vegas and Encore, and similar plans to continue paying employees (at least for some period of time) during the shutdown have been announced from companies including Sands Hotel & Casino, Station Casinos, Penn National Gaming, and The Cosmopolitan of Las Vegas.
Although it is difficult to predict what the long-term impact of these events will be, it is guaranteed that the industry will look somewhat different when we come out of this crisis. It is likely that companies will look to diversify into online gaming to a greater extent, will speed up movement to cash-free gaming alternatives as well as hands-free gaming options, and will increase social distancing and sanitization efforts on casino floors. My hope, however, is that we will also see our gaming and hospitality industry continue to step up to protect its workers and their future, and that all Nevadans will come together (literally, if not physically) to forge a bright post-pandemic future. We've seen Las Vegas come together following tragedy in the past, and there is little doubt that we will emerge from this #VegasStrong.
About the author: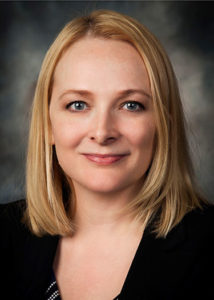 Jennifer J. Gaynor is a member partner at the Dickinson Wright's Las Vegas office. She represents clients before the Nevada Legislature in Carson City and practices before various professional and licensing boards and state and local tax authorities, and represents clients on matters involving First Amendment law, public records and open meeting law, gaming law and regulatory agency actions.
This article was originally published in the "Sports & Entertainment Law" issue of Communiqué, the official publication of the Clark County Bar Association, (May 2020).
© 2020 Clark County Bar Association (CCBA). All rights reserved. No reproduction of any portion of this issue is allowed without written permission from the publisher. Editorial policy available upon request.