On Thursday, May 11, 2023, elder law attorney Carol Kingman will make a special presentation for the continuing legal education of Nevada lawyers in a lunchtime learning program produced by the Clark County Bar Association and the Southern Nevada Senior Law Program.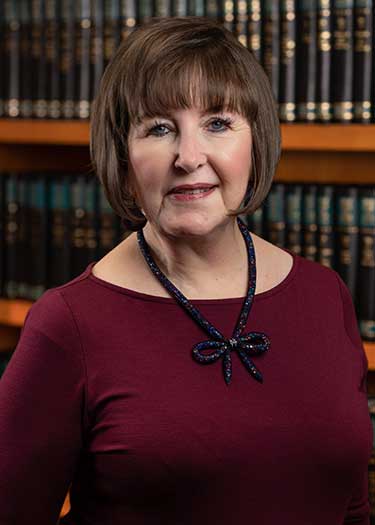 Carol Kingman is originally from Glendale, Arizona, but has lived in Las Vegas since 1987. She graduated from Brigham Young University with a bachelor's degree in education and from the University of Nevada, Las Vegas with a master's degree in history. Prior to attending law school, she taught history at UNLV on a part-time basis and then, when the Boyd School of Law was established at UNLV, had the opportunity to be one of the first students to graduate from there with a juris doctorate. Carol has continued to teach at College of Southern Nevada in their paralegal studies program while working full-time as an elder law attorney at the Southern Nevada Senior Law Program since 2005. She is currently Senior Staff Attorney at the Senior Law Program, which serves citizens in southern Nevada who are 60 years of age or older at no cost. Carol has three grown children and four young grandchildren.
Carol will present the CLE program "Basic Estate Planning Components – Focus on Health Care POAs" and will review the basic components of an estate plan, with emphasis on the Durable Power of Attorney for Health Care Decisions (DPOAH). Carol will focus on the types of decisions the DPOAH requires and the various factors to consider in making those decisions. The presentation is designed to assist practitioners in guiding clients through this challenging document.
The live presentation of "Basic Estate Planning Components – Focus on Health Care POAs" will be held online via Zoom, from 12:00 to 1:15 p.m., Thursday, May 11, 2023. The program will offer 1.0 CLE credit to Nevada lawyers. All RSVPs must be made to the CCBA at least 48 hours before the event starts. Pricing of the live webcast event is included with the 2023 CCBA membership. Non-CCBA members may attend this CLE provided they make payment of $25.00 to the Clark County Bar Association.
CCBA membership will be verified upon RSVP. During the event, attendance will be taken and only those Nevada lawyers in attendance will have their attendance reported to Nevada's Board of Continuing Legal Education.The event will be recorded for use in the CCBA's audio/visual library. The recorded versions of the program will be offered for rental use at a small fee (to cover administrative costs).
For more information and to RSVP for this event, contact Donna Wiessner at Donnaw@clarkcountybar.org, (702) 387-6011.