Abraham Lincoln, a lawyer by trade, said:
Discourage litigation. Persuade your neighbors to compromise whenever you can. As a peacemaker, the lawyer has superior opportunity of being a good man. There will still be business enough.
NRS 3.225(1) states:
The family court shall, wherever practicable and appropriate, encourage the resolution of disputes before the court through non-adversarial methods or other alternatives to traditional methods of resolution of disputes.
Here is an all too common scenario in family law. Whether it be by regular negotiations, a settlement conference, or a private mediation, the terms of a marital settlement agreement (MSA) are finally reached. Family law, by its nature, is an emotionally charged area of the law, which is ripe with fluidity. For some reason, one of the parties subsequently reneges and now "wants to go to trial," many times seemingly just to punish the non-breaching party for actual or perceived marital wrongdoings. The non-breaching party's counsel far too oft simply writes it off as routine practice. The breaching party's counsel sometimes will file a motion to withdraw because they know that an agreement was reached and that their client has flip-flopped after months, or in extreme cases, years of negotiation. Some non-breaching party's counsel (and many times inadequate/unethical counsel for the breaching party who decide they cannot afford to discontinue their stream of fees) unfortunately believe that the agreement reached is null and void since it was not yet reduced to writing and/or signed by the parties. Wrong!
NRS 123.270 states:
All marriage contracts or settlements must be in writing, and executed and acknowledged or proved in like manner as a conveyance of land is required to be executed and acknowledged or proved.
As this statute's footnote confirms, it was enacted in 1873. This is less than a decade after Nevada received its statehood from "Honest Abe" (supra) in 1864, and more than a century before all of the modern caselaw citations (cited below) which have effectively invalidated the mandates of NRS 123.270. Since its inception some 147 years ago, a Westlaw search reveals that NRS 123.270 has only been cited in Nevada published opinions once in dicta and once in an obscure footnote. What then is a non-breaching party's counsel to do? Immediately file a motion to enforce using the following caselaw as the legal foundation. Immediacy is necessary as some evidence may be verbal or undocumented.
Parties are free to contract, and the courts will enforce their contracts if they are not unconscionable, illegal, or in violation of public policy.
Rivero v. Rivero, 216 P.3d 213, 226 (2009).

An agreement to settle pending divorce litigation constitutes a contract and is governed by the general principles of contract law.
Anderson v. Sanchez, 373 P.3d 860, 862 (2016).
Common examples of contract principles used in an effort to get out of an MSA are mistake and/or duress (e.g., "My client made a mistake. He/She was also under duress as they were too emotionally unstable due to the current divorce proceedings.").
[U]nilateral mistake is not a ground for rescission unless the other party knows or has reason to know of the mistake.
Gen. Motors v. Jackson, 900 P.2d 345, 349 (1995).
It is well settled that a contract may be set aside for duress only if it was obtained by so oppressing a person by threats regarding the safety or liberty of himself, or of his property, or of a member of his family, as to deprive him of the free exercise of his will.
In re Marriage of Broderick, 209 Cal.App.3d 489, 499 (1989).
Both of these legal grounds are routinely alleged, but neither are usually successfully substantiated.
In May v. Anderson, 119 P.3d 1254 (2005), the Court held:
Basic contract principles require, for an enforceable contract, an offer and acceptance, meeting of the minds, and consideration. With respect to contract formation, preliminary negotiations do not constitute a binding contract unless the parties have agreed to all material terms. A valid contract cannot exist when material terms are lacking or are insufficiently certain and definite. A contract can be formed, however, when the parties have agreed to the material terms, even though the contract's exact language is not finalized until later.
Id. at 1257.
A promise or agreement with reference to a pending judicial proceeding, made by a party to the proceeding or his attorney, is binding without consideration."
Grisham v. Grisham, 289 P.3d 230, 234 n.3 (2012).
[Refusal] to sign the proposed draft . . . is inconsequential to the enforcement of the documented settlement agreement.
May, 119 P.3d at 1259.
In Harmon v. Tanner Motor Tours, 377 P.2d 622 (1963), the Court upheld an agreement not yet reduced to writing. "To hold otherwise would render the proceedings . . . meaningless and a sham." Id. at 627. No party to a divorce should be subject to unnecessary exercises in futility, especially amidst emotionally taxing legal proceedings.
Circling back to where we began, "[T]he prevention of future litigation is one of the primary goals of a settlement." May, 119 P.3d at 1258.
[W]hat are considered [to be material terms] varies with the nature and complexity of the case and must, therefore, be determined on a case-by-case basis.
Id.
"Whether a contract exists is a question of fact." Anderson, 373 P.3d at 863. However, the burden of proof is far from unattainable.
[A]bsent a clear legislative intent to the contrary, we conclude that the standard of proof in a [civil/domestic matter] must be by a preponderance of the evidence.
Mack v. Ashlock, 921 P.2d 1258, 1261 (1996); Black's Law Dictionary, 1201 (7th ed.1999) ("The greater weight of evidence." (i.e., 50.0001%)).
What does a May type evidentiary hearing entail? This court has conducted several of these types of evidentiary hearings. Some have consisted of the mediator testifying whether they believed there was a meeting of the minds and the material terms were accepted. Other hearings have consisted of the breaching party's prior counsel [post withdrawal] being subpoenaed to testify as an officer of the court as to whether the material terms were accepted. The easier cases include tangible correspondence documenting acceptance of the material terms. Counsel opposing this form of evidence that is clearly unfavorable to their defense routinely attempt to claim it must be barred because it was part of settlement negotiations. NRS 48.105(1). Ridiculous! A valid acceptance to an offer does not constitute negotiation; it is a "binding obligation . . . notwithstanding the subsequent failure to prepare and sign the contemplated formal agreement." Harmon, 377 P.2d at 727 (citing to Garfielde v. United States, 93 U.S. 242 (1876)).
In closing, you have a duty to zealously represent your client. Do not just roll over when the other side unexpectedly reneges on an agreement. Also, do not be one of those attorneys who acts merely as a puppet for their client. Do what is right; reputations in our legal community are remembered and karma is real. To keep the agreement alive, immediately file a May motion to enforce. Time is of the essence for evidentiary purposes as memories can fade fast if terms were not reduced to writing. Remember, in the end, you also have Abe on your side.
About the author: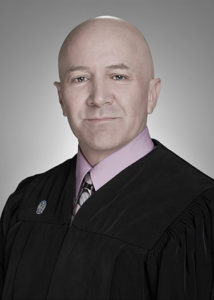 Judge Mathew Harter is a Nevada native (Bonanza H.S./UNLV). He received his J.D. cum laude in 1994 from W. Michigan University where he served on Law Review, on the National Moot Court Team and at 2 law clinics for indigents. He was a Law Clerk for Judge G. Hardcastle and then chose to start a solo law practice in 1995 primarily in Family Law. He was elected to Dept. N in 2008, re-elected in 2014 and was unopposed in 2020.
This article was originally published in the "Mental Health" issue of Communiqué, the official publication of the Clark County Bar Association, (June-July 2020). See https://clarkcountybar.org/about/member-benefits/communique-2020/communique-august-2020/.

© 2020 Clark County Bar Association (CCBA). All rights reserved. No reproduction of any portion of this issue is allowed without written permission from the publisher. Editorial policy available upon request.