Technology for Good
By Lauren D. Calvert, Esq.
Every lawyer has moments of hating technological advancement for the way it requires us to practice law. My confession: I never learned to type. I've broken two keyboards and a mouse out of pure frustration. But as much as moments like these—and recent coverage of world-wide technology failures—cause us consternation over the impact of technology on our everyday lives, the reality is legal tech is positively affecting our most vulnerable and underserved populations.
Lack of access
Millions of people in the United States lack access to basic legal resources for a variety of reasons. They forgo legal action because the system is too overwhelming or expensive, or because they are uncertain of when they would qualify for legal assistance. In addition to lower-income individuals, the elderly, middle-class Americans, recent college graduates, first-generation immigrants, and new parents all experience barriers to accessing necessary legal resources.
Stanford Law School's Legal Design Lab examines how technology can be used to provide legal solutions to these groups. See http://www.legaltechdesign.com. According to the lab's research, many low and middle-income Americans who have questions about the law instinctually turn to free online sources of information, such as Avvo.com or justanswer.com, which cannot compare to professional legal counsel and which often do not address jurisdictional variances. Despite these shortcomings, more than two-thirds of American adults report they would use online legal services if it would save them money. Increasing numbers of companies are seizing upon the public's willingness to engage in online technologies and combining that with reliable and competent legal services.
Shining tech stars
Tangible examples of using technology to enhance access to justice is exemplified by a sampling of the annual Technology Initiative Grants awarded by the Legal Services Corporation. See https://www.lsc.gov/grants-grantee-resources/our-grant-programs:
Alaska Legal Services Corporation will create a web application, BeneFactor, to inform and assist individuals applying for social security disability benefits. Users are enabled to take their disability applications through the entire benefits process, including reconsideration or appeal.
Georgia Legal Services Program is building an online, interactive tutorial on landlord-tenant law to inform tenants of their rights and next steps, as well as train pro bono attorneys and legal aid staff. Participants are required to answer multiple-choice questions to ensure comprehension and to maximize effectiveness.
Community Legal Aid Services and Ohio Legal Help are developing mobile access for users of the Ohio State's web site. Users can create a personalized dashboard to save and retrieve assembled documents, articles, and other ongoing tasks. The system can also send text reminders to users.
North Penn Legal Services will create a statewide, online system for conducting quick and flexible intake and referrals. The system will connect low-income individuals to a legal aid provider or resource that can best meet their needs, taking into account case priorities of those project partners.
Philadelphia Legal Assistance Center is partnering with Upsolve.org, the TurboTax of Chapter 7 bankruptcies, to develop artificial intelligence tools to guide individuals throughout the bankruptcy process, translating court filings into plain language, setting appointment reminders, and monitoring court dockets for case activity.
Not on the list, but notable, is JustFix.nyc, which assists pro se tenants in gathering evidence, mediating with their landlord through templated communications, reporting violations to city agencies, connecting with organizers and attorneys and presenting their evidentiary record to the housing court. The app includes an "Advocate Dashboard" to allow community organizers, attorneys, and other advocates to conduct targeted outreach, gather evidence for class actions, communicate with tenants, and analyze data about buildings, landlords, and neighborhoods.
What's in it for me?
It's not just indigent clients that can benefit from legal tech interventions. The time it takes a lawyer to create routine documents and how quickly a lawyer can find needed documents greatly impact an attorney's productivity. If lawyers can do these mundane tasks more quickly, they can serve more clients in the same amount of time and, in turn, better serve the public, perhaps even creating the space necessary for lawyers to initiate or increase their pro bono commitments. Technology can also increase contact with new clientele.
For example, VisaBot's immigration bot uses artificial intelligence and natural language processing to walk people through the entire process of applying for and securing Visas. Cat Zakrzewski, "Meet the Chatbot Taking on Immigration." Wall Street Journal (March 17, 2017). Applicants download VisaBot's Facebook Messenger chat bot, submit necessary information and supporting documents, and the bot ensures all applications are properly filled and filed. VisaBot stays with applicants until they have obtained their Visa. If the bot cannot resolve applicant inquiries, the case will escalate via Skype to an immigration attorney. By automating these mundane administrative tasks, lawyers' time and resources can be put to a higher use.
Another app, Legal Risk Detector, is used by medical personnel and social workers to screen seniors for potential legal issues. See https://elderjusticeny.org/resources/legal-risk-detector-app. If a senior is identified as high-risk, the legal technology will do more than merely diagnose the situation: it will automatically connect the senior with an attorney, who will already have the relevant background information, enabling consultation to proceed more quickly. Taking a case from a hospital bed to the desk of an attorney at no cost and instantaneously was unimaginable just a few years ago.
Technology helping lawyers helping litigants
Technology also allows attorneys to provide pro bono services in practice areas outside their wheelhouse or in an expedited manner. New York's Civil Legal Advice and Resource Office serves low-income individuals being sued by debt collectors. See www.CLAROnyc.org. Its pro bono attorneys face overwhelming demand and a limited window of consultation time, during which some essential documents are too complex to be drafted. In partnership with LawHelp Interactive, the organization automated forms used in the clinics to more quickly and efficiently generate documents. An Opposition to a Motion for Summary Judgment, which previously required hours to prepare, can now be done in minutes. Online templates provide guidance to less experienced volunteers or attorneys working outside of their area of expertise. Clinic volunteers are able to serve clients more quickly and thus serve more people.
LawHelp Interactive also partnered with Legal Aid Services of Oklahoma to expand the availability of pro bono assistance in expungement matters. See www.legalaidok.org. The technology facilitates the screening and intake process, generates forms, and permits remote and limited scope services. Individuals can complete a guided online interview to help determine if they qualify for expungement. Pro bono coordinators can then share information collected online with volunteer attorneys, who can remotely review the client's information documents and create the necessary forms and instructions from within the LawHelp Interactive platform.
Other programs combine online document assembly with tools allowing volunteer attorneys to review those documents remotely. The Legal Aid Society of Northeastern New York is piloting Closing the Gap, an initiative to increase pro bono services in rural areas for housing and consumer cases through the use of remote assistance technology and client collaboration tools, including real-time video sessions, remote review of online forms, and generation of pro se answers. See www.closingthegapny.org.
It's going to be okay – the robots are not taking over
Lawyers aren't going away. The world needs us. However, right now, technology has a huge opportunity to fill the gap between justice and legal equality. Just remember that the next time you're tempted to throw your computer out the window.
About the author: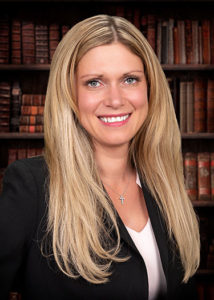 Lauren Calvert, Esq. is a partner and litigator at Messner Reeves LLP, despite having never learned to type. She represents both plaintiffs and defendants in matters involving catastrophic loss, complex litigation, deprivation of constitutional rights, employment law, and general appellate practice.
This article was originally published in the "Technology in Practice" issue (March 2020) of Communiqué, the official publication of the Clark County Bar Association.
© 2020 Clark County Bar Association (CCBA). All rights reserved. No reproduction of any portion of this issue is allowed without written permission from the publisher. Editorial policy available upon request.