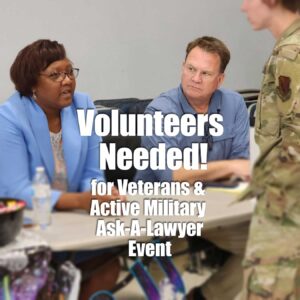 Volunteers are needed to help the CCBA's Community Service Committee at a group activity to provide pro bono services to veterans and active military personnel at this special event hosted by the Legal Aid Center of Southern Nevada on July 11, 2023. For more information and to volunteer, complete the form below.
When: Tuesday, July 11, 2023
Morning session: 10:00 am – 12:00
Afternoon session: 1:00 pm – 3:00 pm
Where: North Las Vegas VA Medical Center, 6900 N. Pecos Rd. North Las Vegas, NV 89086
Who: Nevada lawyers'
RSVP to sign up as an attorney volunteer: To RSVP, complete the form below.