The court has made it a priority to keep cases moving and trials tracking in a safe and effective manner. I want to thank the Presiding Judges Nancy Allf, Rebecca Burton, and Tierra Jones for their tireless work during the difficult times of this pandemic. A strategy is in place to meet the priority of full-days for trials to keep them moving forward. As of August 31, the Eighth Judicial District Court has completed 19 jury trials since trials resumed in courtrooms in early June 2021. For every one of these trials, numerous cases resolved at calendar call and central calendar call. Many thanks to Judge Tierra Jones for managing the central calendar-call calendar and thanks to those who assisted with case coverage. In addition, from January 1, 2021 to July 30, 2021, 142 civil bench trials were successfully completed. To keep things running smoothly and effectively, lawyers are reminded to provide the necessary trial information at calendar call (how many days, how many witnesses, and the names of trial counsel). This information will be included in calendar call minutes.
Settlement conferences have proven to be an effective way to resolve cases. The court has increased the number of settlement conferences that the senior judges are covering. A large number (20-30 a week) of civil and family senior settlement conferences are being set. Those scheduled for a settlement conference should avoid last minute cancellations. While emergencies do happen, please be aware that we have a significant backlog to address with limited resources. Those who schedule settlement conferences are expected to attend and be prepared.
The establishment of docket numbers was the number one priority identified by the Information Technology Bench/Bar Committee, several years ago. Order in the Court (OIC) has been implemented to enable the court to manage cases remotely. Docket numbers (or docket index numbers) are now live in Odyssey. The docket number system will function much like the federal PACER system. Docket numbers are viewable to both the court and to the public on Portal. The goal is for filers to include docket numbers in their pleading titles to convey context to existing filings. The new system should improve organization and efficiency. Docket numbers will appear in real-time in Odyssey. Updates may take up to an hour to be visible online in Portal. I would like to recognize Judge Elizabeth Gonzalez for the seeds she planted to bring docket numbers to fruition. Thanks also to the court IT department for their work on docket numbers, OIC and for getting us through the immense challenges of this past year.
Commissioners Erin Truman and Jay Young have done an outstanding job keeping the arbitration and short trial programs moving at full force, even during the pandemic. Approximately 80 short trials/short bench trials were completed by the end of August.
I am truly appreciative of the tremendous work that has been accomplished in the Eighth Judicial District Court through this past year and a half of unprecedented times. Judges, attorneys, court administration and court staff have risen to the challenge and managed to ensure that justice is served, despite what otherwise seem to be insurmountable challenges.
About the author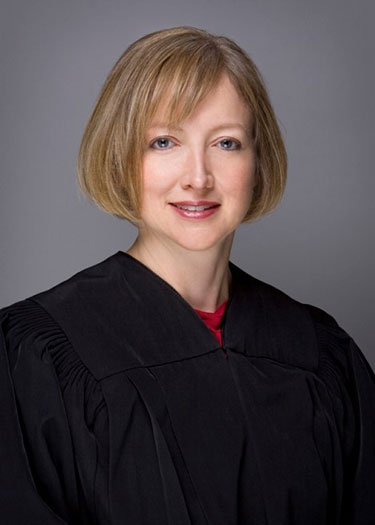 Judge Linda Marie Bell is the chief judge for the Eighth Judicial District Court. She has been serving in department 7 since 2009, handling civil and criminal cases, managing Grand Juries and overseeing the criminal division specialty courts.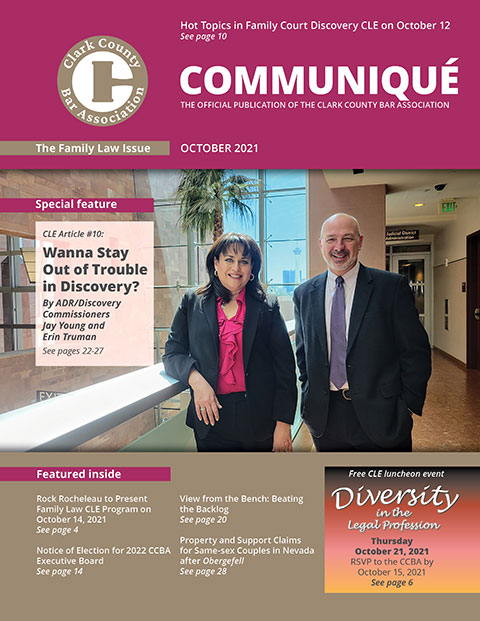 © 2021 Clark County Bar Association (CCBA). All rights reserved. No reproduction of any portion of this issue is allowed without written permission from the publisher. Editorial policy available upon request.