On March 24, 2021, several members of the Clark County Bar Association volunteered to conduct mock job interviews with students of UNLV William S. Boyd School of Law.
CCBA members who volunteered at this event included the following people:
Amanda Roberts of Roberts Stoffel Family Law Group
Annette Bradley of Southern Nevada Health District
Atif Sheikh of Law Offices of Atif Sheikh, PLLC
Judith Simon-Kohl of Roman Catholic Diocese of Las Vegas
Monique Jammer of Dickinson Wright PLLC
Paul Lal of Bois Schiller Flexner LLP
Paul Ray of Paul C. Ray, Chtd.
Reginald Thomas of Koeller Nebeker Carlson Haluck
Steven Parsons of Law Office of Steven J. Parsons
William Brim of Koch & Brim, L.L.P.
The volunteers met students virtually via video conference and were tasked with providing a short interview followed by constructive feedback.
CCBA members Paul Ray and Minjia Yan collaborated with UNLV Boyd Law's Associate Director of Career Development & Public Interest Advisor Nikki Harris, JD, to help the Clark County Bar Association to be a resource to the law students. Ray, who also serves on the CCBA's Executive Board, commented "CCBA members have enjoyed talking with all the law students who have attended. And the Boyd students are so bright and appreciative of the helpful hints for their job interviewing preparations."
Students seemed to enjoy the experience as demonstrated by these comments (from three of the participating students):
The Mock Interview was a great experience. It made me more in tune with my interview skills and what my strengths and weaknesses are. I liked the entire process, especially the feedback was helpful. I didn't dislike anything about the event, but I do wish and hope more students show up in the future.
The interviewers were excellent. They asked interesting questions and returned thoughtful feedback. I felt fortunate to be able to spend time with them. I am sure they are very busy, but they did not make me feel rushed. Best of all, they seemed really invested in my future success.
Thank you for planning this event. I thought the event was great practice and a wonderful opportunity to meet the Las Vegas legal community. I think being in front of attorneys and hearing their perspectives as to what they look for in a potential candidate was informative. I enjoyed getting to practice and hear the different ways an interviewer may ask questions. They also provided some law school advice/recommendations, which was awesome!
The CCBA Executive Board and staff are grateful to all the bar members who shared their time and insight with the law students.
The event was organized by the CCBA's Community Service Committee and was the second time the CCBA hosted the mock interviews with the UNLV Boyd Law students. For more information about the CCBA's community service activities, visit https://clarkcountybar.org/community-service-activities/ or call (702) 387-6011.
About the author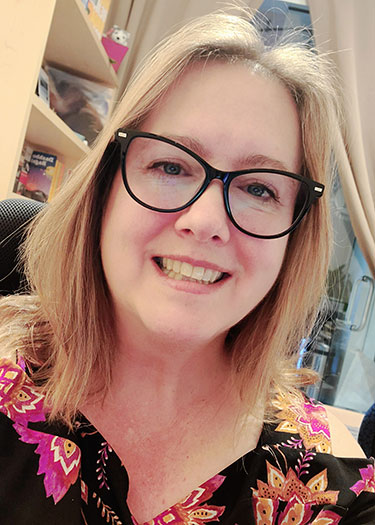 Stephanie Abbott is the communications manager for the Clark County Bar Association. Stephanie produces the bar's journal Communiqué, website ClarkCountyBar.org, and social media channels.
About this article
This article was originally published in the "Law Practice Management" issue of Communiqué, the official publication of the Clark County Bar Association, (May 2021). See https://clarkcountybar.org/about/member-benefits/communique-2021/communique-may-2021/.
© 2021 Clark County Bar Association (CCBA). All rights reserved. No reproduction of any portion of this issue is allowed without written permission from the publisher. Editorial policy available upon request.