The CCBA's Community Service Committee invites bar members to support its upcoming activities to benefit Project 150, a local youth homelessness organization located in North Las Vegas.
Bar members may sign up to volunteer to help during a group activity on Wednesday, March 17, 2021.  The activity will be split into two, two-hour shifts: 11 a.m. to 1 p.m. or 1 p.m. to 3 p.m. with 10 people needed for each shift. CCBA members and family (age 10 and over) are welcome. To volunteer, sign up using the web form listed below.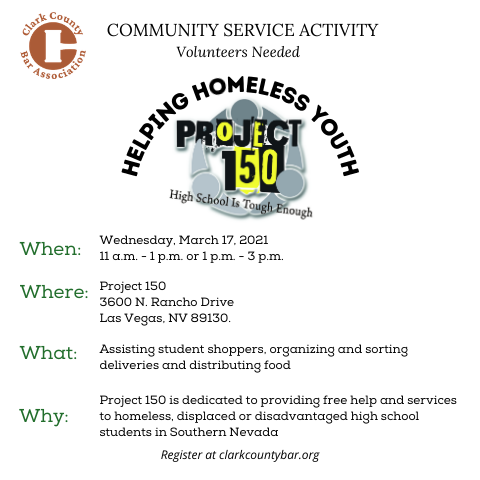 Additionally, CCBA members may make donation of items for distribution to homeless youth served by Project 150. Suggested items to donate:
Food (shelf-stable items like peanut butter, cereal, single-serve pop-top cans of soup or snacks, etc.)
Feminine hygiene products
Shampoo and hair care products
Soap and shaving products
Alcohol and facial cleansing wipes
Toothbrushes (in original packaging)
Donations may be dropped off at the CCBA office at 717 S. 8th Street, Las Vegas, Nevada, between 8am and 4pm weekdays, by Tue. Mar. 16, 2021.
[wpforms id="9637″]