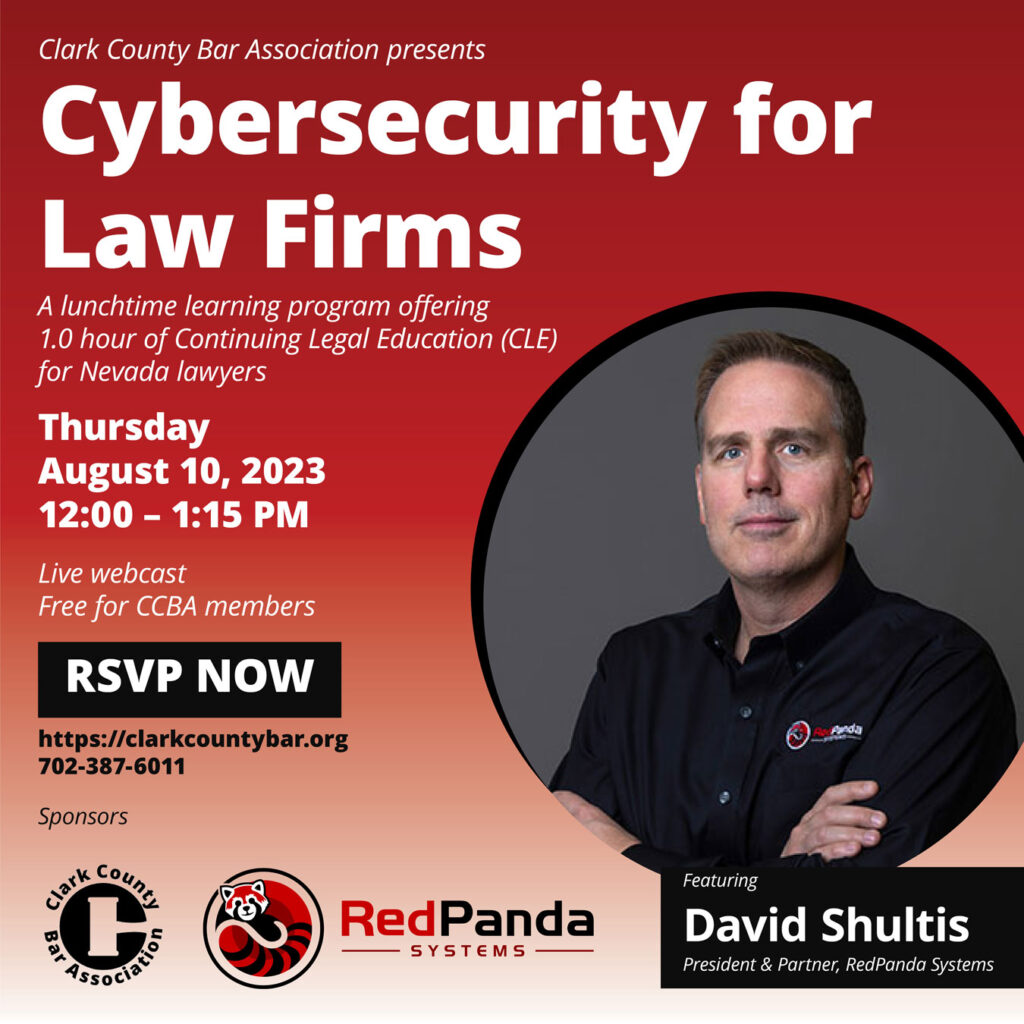 On Thursday, August 10, 2023, IT consultant David Shultis will make a special presentation for the continuing legal education of Nevada lawyers in a lunchtime learning program produced by the Clark County Bar Association and sponsored by RedPanda Systems.
David is President and Partner at RedPanda Systems. While he's not a native, he was raised in Las Vegas for most of his life, where he attended the University of Nevada, Las Vegas https://clarkcountybar.org/marketplace/cle-programs/cybersecurity-for-law-firms-cle-program/and obtained his bachelor's degree in international business. Dave began his IT career in 1999, where the Internet and technology had begun rapidly expanding. Fascinated with the release of Google in the prior year, Dave was inspired to pursue a career in IT, which first started with an 8-week technology course at Microsoft. Here, he would begin building experience, leading to him obtaining a career with a dial-up internet service provider. He worked all over the United States, installing telephone systems back when the internet was still evolving. Since then, he has been certified by numerous organizations, ranging from the Cisco Certified Network Associate (CCNA) Certification, CompTIA A+ Certification, and the Certified Information Systems Security Professional (CISSP) Certification.
Prior to starting the business, David was a freelancer offering his IT services to small businesses. Due to the struggle of working alone, he decided to merge with a fellow competitor with the same issue. This became the Las Vegas IT Consultancy. Realizing this name excluded business outside the city, he and his partner decided to rebrand the company to RedPanda Systems, where they would continue to offer their services, including cybersecurity, IT support, and much more.
Please join the CCBA for this special presentation:
"Cybersecurity for Law Firms" – a CLE program
Date: Thursday, August 10, 2023
Time: 12 to 1:15 pm
Where: Online via Zoom
CLE: 1.0 General CLE Credit (NV)
Speaker: David Shultis, President and Partner at RedPanda Systems
Program Topics:

Importance of Cybersecurity for Law Firms
Threats to Law Firms and Their Data
Data Compliances and Standards for Law Firms
How to Protect Your Data

Price for Live webcast (via Zoom): FREE for CCBA Members (2023) only
Price for recorded materials rental: $25/CCBA Member or $50/non-member
RSVP Deadline: 8/8/2023.
All RSVPs must be made to the CCBA at least 48 hours before the event starts. Pricing of the live webcast event is included with the 2023 CCBA membership.
CCBA membership will be verified upon RSVP. During the event, attendance will be taken and only those Nevada lawyers in attendance will have their attendance reported to Nevada's Board of Continuing Legal Education.
The event will be recorded for use in the CCBA's audio/visual library. The recorded versions of the program will be offered for rental use at a small fee (to cover administrative costs).
For more information and to RSVP for this event, contact the CCBA office at (702) 387-6011.