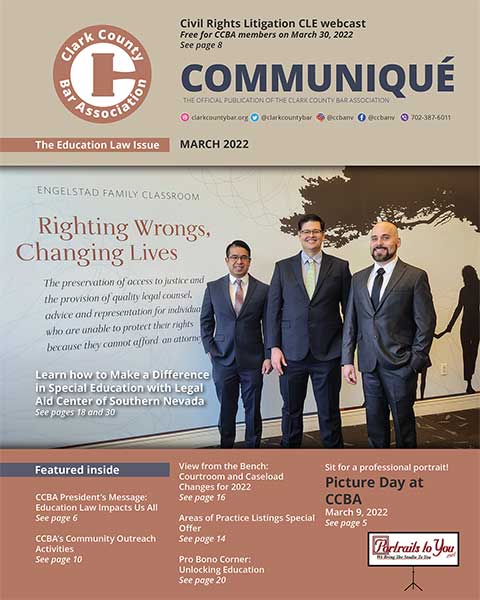 This month's issue of Communiqué features practical content for members of the local legal community including articles related to education law, recurring columns, bar activities, and court news.
Feature articles
"Employer-Mandated Vaccinations for "Making a Difference in Special Education" By Jonathan Norman, Esq. and Xavier B. Planta, Esq.
Columns
CCBA President's Message: "Education Law Impacts Us All" By Nedda Ghandi, Esq.
View from the Bench: "Courtroom and Caseload Changes for 2022" By Judge Melissa A. Saragosa
Pro Bono Corner: "Unlocking Education" By Jonathan Norman, Esq.
Find these titles and more content from the issue published at https://clarkcountybar.org/about/member-benefits/communique-2022/communique-march-2022/.
The Communiqué is primarily a printed magazine format. The March issue has been printed and dropped into the mail stream a week ago.