The "Ethics" issue of Communiqué (June/July 2021), the official publication of the Clark County Bar Association, has been published.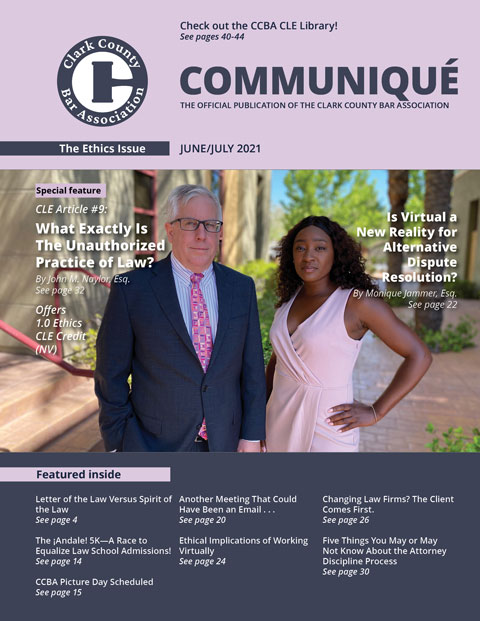 This issue features content related to the topic of ethics, court news, and bar services, written by members of the southern Nevada legal community, including:
"The ¡Andale! 5K—A Race to Equalize Law School Admissions!" By Marisa Rodriguez, Esq. and Theresa Guerra, Esq.
"Another Meeting That Could Have Been an Email…" By Mandy McKellar, Esq.
"Is Virtual a New Reality for Alternative Dispute Resolution" By Monique Jammer, Esq.
"Ethical Implications of Working Virtually" By Jessica Whelan, Esq. and Sydney Gambee, Esq.
"Changing Law Firms? The Client Comes First." By Stephanie J. Glantz, Esq.
"Five Things You May or May Not Know About the Attorney Discipline Process" By Joshua P. Gilmore, Esq.
"What Exactly Is The Unauthorized Practice of Law?" By John M. Naylor, Esq.
CCBA President's Message: "Letter of the Law Versus Spirit of the Law" By James E. Harper, Esq.
View from the Bench: "Las Vegas Justice Court Traffic Update" By Justice of the Peace Ann Zimmerman
Pro Bono Corner: "My First Pro Bono Case: The Good, the Bad, and the Ugly" By David Stern, Esq.
Read their articles and find featured content at https://clarkcountybar.org/about/member-benefits/communique-2021/communique-june-july-2021/.
For more information about the editorial calendar, deadlines, editorial policy, author guidelines, ad specifications, and deadlines for Communiqué, contact the publisher at Clark County Bar Association, 717 S. 8th Street, Las Vegas, Nevada, 89101. Phone: (702) 387-6011.