As this year comes to an end for my presidency at the Clark County Bar Association, I want to welcome Nedda Ghandi, our incoming 2022 President.
Although much of the year's activity were constrained to virtual participation, I am grateful that the last quarter of the year welcomed the return of live events. In addition to the August 12, 2021 luncheon with Vegas Golden Knight's Chief Legal Counsel, Chip Seigel III, the CCBA hosted live events in October and November, and will host the 40 Year Club & Annual Meeting this month.
On Thursday, October 21, 2021, the CCBA's Diversity & Inclusion Committee for Equity ("DICE") hosted "Diversity in the Legal Community," a special luncheon event at the Golden Nugget, featuring a panel discussion about diversity, inclusion, and equity in the legal profession with notable members of Nevada's legal community.
Learn more about that event from this article: "Empathy and Awareness Are Keys to Diversity and Inclusion"
On November 4, 2021, the CCBA hosted the 30th Annual Meet Your Judges at The Smith Center for the Performing Arts. The highlight of the evening was Justice Abbi Silver's acceptance of the CCBA's 2021 Judicial Award of Excellence. Brittany Walker, Ryan Semerad, Amber Lunn, and Tasha Schwikert nominated Justice Silver for the award. It was my great honor to present the award to Justice Silver before a crowd of, perhaps, the most judicial officers and attorneys gathered together since March 2019. (See page 10 for more highlights from the event.)
Justice Silver has demonstrated judicial excellence through conduct upholding the rule of law and the impartial administration of justice, especially through her service on the Nevada Standing Committee on Judicial Ethics. Justice Silver is the only person ever to serve as a judge at every level of our Nevada state court system.
Justice Silver has fostered access to justice through her judicial service and through her representation of countless victims as a Chief Deputy District Attorney of the Special Victims Unit for Clark County, Nevada. Moreover, Justice Silver has contributed to the quality and comradery of the bar through her mentorship of countless young men and women in the community.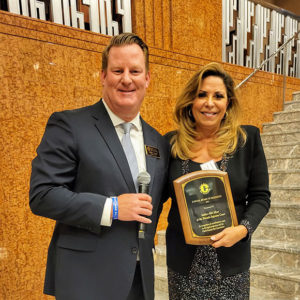 See highlights from Meet Your Judges event at https://photos.app.goo.gl/F1YuJoT5W4EwJcGP9.
On November 5, 2021, I was humbled to represent the CCBA at the Annual Attorney Memorial Service produced by the Clark County Law Foundation in conjunction with the Clark County Bar Association, State Bar of Nevada, Eighth Judicial District Court, U.S. District Court, and the Federal Bar Association-Las Vegas Chapter.
Those honored at the service:
Judge Lloyd D. George
Judge Don P. Chairez
Judge James A. Brennan
Justice Thomas L. Steffen
Kenneth W. Long
Scott K. Canepa
Michael J. Amador
Wm. Gary Logan
James D. Vitale
William (Bill) B. Terry
Sean T. Higgins
Other members who passed away in 2020 and 2021 but who were not specifically honored at the service:
Peter Flangas
John Duffy
Arthur Tuverson
Mark Solomon
Catherine Kay Ramsey
Jeanette Mitchell
Daniel Rickert
Christopher John Curtis
Justin Karczag
Thomas Crowe
Valerie Adair
Gregory Bubyoff
Robert Gaston
Geraldine Kirk Hughes
Thomas Moore
Jerry Osgood
Ian Ross
Lawrence Yenko
Yvette Robinson Freedman
For the last live event of the year, the CCBA will host the 40 Year Club & Annual Meeting at The Smith Center for the Performing Arts on December 2, 2021. Each year, we celebrate CCBA members who have practiced law in Nevada for 40, 45, 50, & 55 years. Once again, Dan Polsenberg will emcee the event. Please come and join us for this wonderful event and celebration of the end of the year.
See photo highlights from 40 Year Club Luncheon at https://photos.app.goo.gl/NBD8pcRip3JdpSeK8
As I reflect on this past year, I want to thank the many volunteers and our staff who make things happen in our organization. Special thanks go to Nedda Ghandi, our President Elect, and Brandon Kemble, our Secretary Treasurer, for their help and wisdom at a moment's notice. Many thanks to all the Executive Board members who attended our monthly meetings and worked on special projects. And last, but not least, to the most efficient and conscientious staff you could ever ask for, Donna Wiessner, our Director, and Stephanie Abbott, our Communications Manager.
Thanks to all of you for making this unusual and different year enjoyable. For your dedication and support, I am forever grateful.
About the author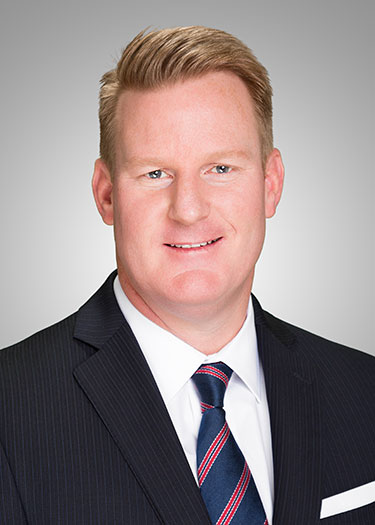 James E. Harper, Esq. is the founding member of Harper Selim, PLLC, a civil and commercial litigation firm. James's practice is focused on insurance matters, including coverage and bad faith, and appellate matters. James is president of the CCBA through December 2021.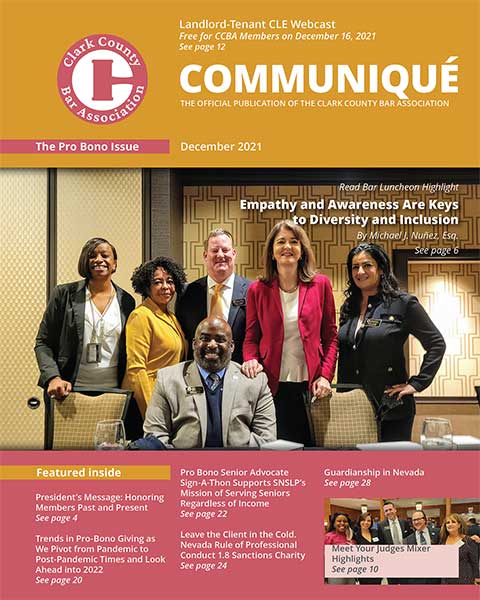 © 2021 Clark County Bar Association (CCBA). All rights reserved. No reproduction of any portion of this issue is allowed without written permission from the publisher. Editorial policy available upon request.