Growing up, I always looked forward to Sunday afternoons. I loved going over to grandma's house near the Palace Station, the same house where my dad and his three siblings lived when they moved to Las Vegas in the 1960s. My parents, my twin brother Anthony, and I would make our way over to grandma's house, and not long after the rest of the family would walk in through the back sliding door of the house into the kitchen. My aunt, Mary-Ellen, always came in with an arm full of celebrity and lifestyle magazines (usually a few copies of People) for my other aunt, Margaret. My sister, Kristen, would walk in with her coffee a little bit after them. Uncle Sal was usually the last one to join everyone around the table in the kitchen.
The Sundays that Uncle Sal would come over were full of a lot of laughter. He loved to tell us stories about things happening in his life, his business, and his upbringing (which usually involved him and my dad getting into some sort of trouble during their days at St. Joseph's Catholic School and Clark High School—and receiving some tough love from my grandpa.). I remember Sal would always bring copies of his "Ask Mr. Lawyer" column after they would publish so he could read them to us.
Now in my 30s, I look back on those Sunday afternoons so fondly and wish I could relive those memories. Sal always brought so much joy and laughter to every room he entered, which is how I'll always remember him.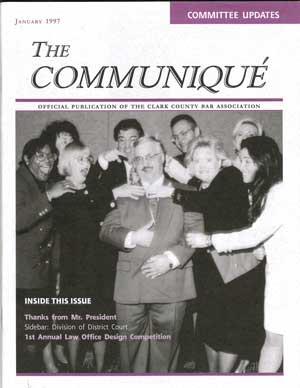 About this article: This article was originally published in the Communiqué, the official publication of the Clark County Bar Association, (Aug. 2023). See https://clarkcountybar.org/about/member-benefits/communique-2023/communique-august-2023/.
About the author
Tommy Gugino is the son of Tom Gugino, the younger brother of Sal Gugino. Born and raised in Las Vegas, Tommy works as the Director of Marketing and Communications at the William S. Boyd School of Law at UNLV.
© 2023 Clark County Bar Association (CCBA). All rights reserved. No reproduction of any portion of this issue is allowed without written permission from the publisher. Editorial policy available upon request.