For everyone, navigating the impact of the COVID-19 pandemic, quarantines, business shut-downs, and restricted attendance to meetings and events became the new norm. This is especially true for Clark County practicing attorneys, who had to quickly adapt their case strategies and tactics to a virtual world and resolve disputes through unchartered virtual means.
Now that vaccinations are trending and communities are lifting restrictions, how does alternative dispute resolution ("ADR") look for the future?
As described by one judge, "necessity can move mountains." See [Podcast] "Where Do We Go From Here? The Future of Virtual ADR," JAMS ADR Blog (Apr. 16, 2021), https://www.jamsadr.com/blog/2021/podcast-where-do-we-go-from-here-the-future-of-virtual-adr?utm_source=Mondaq&utm_medium=syndication&utm_campaign=LinkedIn-integration. Once the duration of the pandemic made it virtually impossible to move forward under the mediation and settlement conference continuance-and-cancellation cycle, courts, litigators, mediators, and arbitrators made Zoom (and similar virtual conference software) the new conference room. In-person preferences became subordinated to the needs of clients and the interests of the parties resolving their disputes without waiting in trial-stay limbo.
And as legal professionals became more exposed, versed, and proficient in utilizing virtual resources, the benefits were undeniable: reducing the likelihood of needing to continue or cancel ADR conferences based on inability to appear in person; creating more flexible appearance schedules; keeping client costs down by only attending mandated in-person appearances; and avoiding stale cases. See Margaret K. Rees, "Virtual Mediations Now a Reality", Law Times (Apr. 12, 2021), https://www.lawtimesnews.com/practice-areas/adr/virtual-mediations-now-a-reality/354882.
Simply put, virtual ADR will be here to stay, so it will be critical to familiarize ourselves with the software generally, and the nuances therein that will enhance zealous virtual advocacy. The good news is, many individuals came into the pandemic already exposed to a glimpse of our now virtual reality. Through e-mail communications to negotiate settlements, video conferences with clients to prepare for ADR conferences, and even webinars, parties and counsel alike have already been exposed to virtual endeavors to set the stage for successful ADR conferences. Additionally, virtual appearances are not a new feat. The frequented ADR companies, including JAMS (Judicial Arbitration and Mediation Services, Inc.), ARM (Advanced Resolution Management), and AAA (American Arbitration Association), as well as others, have applied virtual appearances since the early 2000s. See "Setting the Industry Standard: Virtual Mediation and Arbitration," Judicial Arbitration and Mediation Services, Inc. (May 2, 2021) https://www.jamsadr.com/online; see also "Case Anywhere," Advanced Resolution Management (May 2, 2021) https://armadr.com/case-anywhere/; see also Virtual Hearings, American Arbitration Assoc. (May 2, 2021), https://go.adr.org/covid-19-virtual-hearings.html?gclid=CjwKCAjwhMmEBhBwEiwAXwFoEZMPFRhZFkkRf3UaWdnhXIO8J1KvXVyWuXUf-ebiNlHS43LeU2BNuxoC4l8QAvD_BwE. By expanding technological resources and allowing litigators and parties to conduct conferences through convenient technology they already have available, ADR facilitators embrace virtual mediation, arbitration, and settlement as a gift instead of one of the many pandemic curses.
Notably, even the American Bar Association ("ABA") recognized the high likelihood that virtual has become a staple in litigation reality. On March 10, 2021, released Formal Opinion 498, which highlighted the ongoing obligation attorneys have to ensure that they uphold their ethical duties of confidentiality, competence, and supervision when utilizing virtual settings. See Formal Opinion 498, Virtual Practice, American Bar Assoc. Standing Committee on Ethics and Professional Responsibility (Mar. 10, 2021), https://www.americanbar.org/content/dam/aba/administrative/professional_responsibility/aba-formal-opinion-498.pdf.
So what are the biggest tips judges, practitioners, and professionals recommend when utilizing virtual platforms? Here are a few:
Prepare, prepare, prepare. Explore the virtual resources your firm already provides, and let your ADR facilitator, as well as all parties, know well ahead of the conference (i.e. through a pre-conference meeting).
Create the flexible experience your client needs to resolve the dispute—whether meeting in person at your office or directing them toward the resources they have available to appear virtually.
Collaborate with the ADR facilitator, opposing counsel, and parties to create a back-up approach, should technical issues arise.
See Rebekah Ratliff, Top 10 Dos and Don'ts of Virtual Mediation, Daily Report, Law.com Daily Business Review (Apr. 9, 2021), https://www.law.com/dailybusinessreview/native?mvi=434d7a83e0e34d748b4b2c10ccdf81ee&mv-preview&slreturn=20210405192523; see also Hon. Emil Giordano (Ret.), Mediator's Tips for Successful Virtual Mediation, Norris McLaughlin, P.A. (May 3, 2021), https://norrismclaughlin.com/articles/mediators-tips-successful-virtual-mediation/.
About the author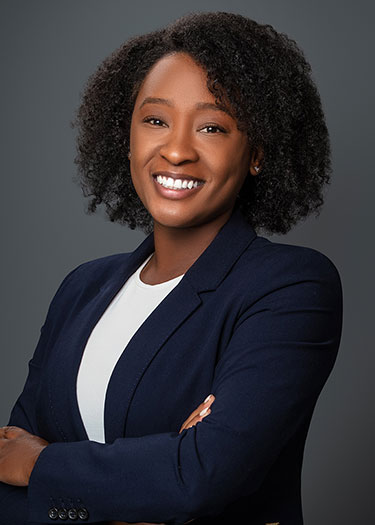 Monique Jammer, Esq. is an associate at Dickinson Wright PLLC in the firm's Litigation Division. Her practice primarily focuses on complex commercial and business litigation, while also working on matters concerning United States product regulation and compliance. Contact her at (702) 550-4467 or mjammer@dickinson-wright.com.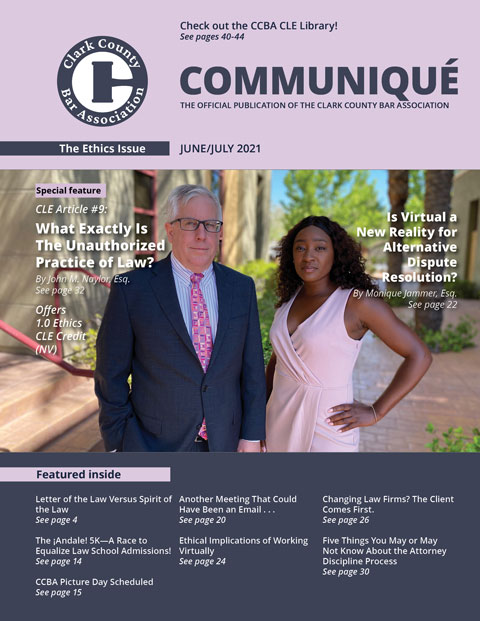 © 2021 Clark County Bar Association (CCBA). All rights reserved. No reproduction of any portion of this issue is allowed without written permission from the publisher. Editorial policy available upon request.