Las Vegas Justice Court's Response to the COVID-19 Crisis
By Chief Judge Suzan Baucum
The Las Vegas Justice Court has implemented drastic changes in order to comply with recent directives for social distancing.
First, the following schedule is being used temporarily for criminal matters. [See below for schedule.]

All matters in Initial-Appearance Court will still be handled by department 9 in lower-level courtroom B.
Second, all criminal out-of-custody hearings (other than preliminary hearings) are continued for at least 60 days based upon departmental calendars. Attorneys should communicate with the court via e-mail (preferred) or phone to obtain new court dates. A listing of all e-mails and phone numbers appears at http://www.lasvegasjusticecourt.us/.
Third, for the time being, a person will be released on his or her own recognizance, and given a return court date for no sooner than 60 days, if:
The person is arrested on a misdemeanor bench warrant, other than a bench warrant for battery constituting domestic violence or DUI; or
The person is arrested on a civil bench warrant.
Fourth, all traffic pre-trial matters are suspended for at least 60 days.
Fifth, certain "essential" civil hearings will be conducted through in-person appearances, although appearance by alternative means under Supreme Court Rules is encouraged when possible. Examples of "essential" hearings include protection orders (TPO's), unlawful towing, and objections to claims of exemption. All currently scheduled "non-essential" civil hearings will be conducted by video or telephone, decided on the papers, or rescheduled unless otherwise ordered. Small-claims hearings and trials are considered "non-essential."
Sixth, all jury trials (civil and criminal) are being rescheduled.
Seventh, the issuance of defaults is now suspended, but the court is processing default-judgment applications.
Eighth, all evictions have been suspended unless a tenant poses a danger, is committing a crime, or is damaging the property.
Ninth, the issuance of all writs of execution has been suspended.
Finally, the court has dedicated phone lines as follows:
Criminal: (702) 671-3201
Civil: (702) 671-3478
Traffic: (702) 671-3444
Please use these numbers to reschedule court appearances, arrange appearances by alternative means, or provide other necessary information to the court during this difficult time.
About the author: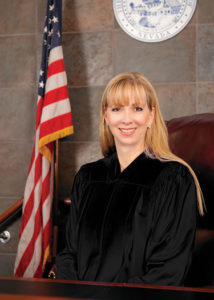 Chief Judge Suzan Baucum was elected to Las Vegas Justice Court Department 13 in 2010 and was re-elected in 2016 before becoming Chief Judge in 2019.
This article was originally published in the "Sports & Entertainment Law" issue of Communiqué, the official publication of the Clark County Bar Association, (May 2020).
© 2020 Clark County Bar Association (CCBA). All rights reserved. No reproduction of any portion of this issue is allowed without written permission from the publisher. Editorial policy available upon request.