The Southern Nevada Senior Law Program ("SNSLP") may be a lesser-known pro bono legal services provider, but it serves a critical role in protecting our seniors. Unlike other fantastic "safety net" organizations, SNSLP does not turn clients away based on income. SNSLP offers an array of services including estate planning, healthcare directives and powers of attorney, eviction and foreclosure assistance, consumer protection, and elder rights assistance to Southern Nevadans 60 years of age and older.
With the expiration of the eviction moratorium, SNSLP has risen to the challenge of providing emergency assistance to seniors facing imminent eviction. SNSLP has devoted additional resources to address this crisis, including adding an independent contractor to assist in eviction matters through a grant from the Nevada Aging and Disability Services Division. Other resources have been shifted to ensure that seniors facing a crisis receive needed representation on a fast-track basis.
During Pro Bono Month, SNSLP launched its Pro Bono Senior Advocates program with an event dedicated to estate planning clients not facing exigent circumstances. More than a dozen volunteers met with approximately 20 clients, explaining, completing, and supervising the signing of dozens of documents, including wills, durable powers of attorney for health care decisions, powers of attorney, and homestead declarations. Many clients expressed their appreciation for the opportunity to have an expedited completion of their documents.
The volunteers ranged from new attorneys to those with decades of experience. One volunteer, April Anstett, described her participation and its impact:
I appreciated the CLE training in preparation of meeting with the seniors. I have kept my Nevada license, but I haven't practiced law since 2003. Instead, I have been a stay-at-home mom to my three children.
This was my first time doing pro bono work. In the past, thoughts of fear, apathy, insecurity about my own knowledge/ability, and not wanting to get out of my comfort zone kept me from volunteering.
This event inspired me to keep doing pro bono work. The people I helped were very appreciative of my assistance. In only a few hours of time, I gave my pro bono clients peace knowing that their legal issues were being taken care of. Things that I consider relatively simple tasks can be overwhelming to lay persons. Helping those people brought me joy and a sense of purpose. I am thankful that I have a law license and I am looking forward to volunteering at more pro bono events in the future.
The innovative event was sponsored by Carlyon Cica, Chtd. SNSLP Managing Attorney Carol Kingman provided one-hour training sessions which covered the basics of all of the documents. Following that CLE program, attorney volunteers met with clients to explain and complete the documents, with Carol available to answer questions or assist. Carlyon Cica Chtd. paraprofessionals Nancy Rodriguez and Cristina Robertson assisted with notarization, witnessing, and organization, as well as providing assistance in transmitting advance directives to the state lockbox maintained by the Nevada Secretary of State. Ms. Kingman and SNSLP Elder Law Attorney Lorrie Haug conducted initial meetings with the clients and drafted the documents, and SNSLP paraprofessional Tiffany Shaw devoted hours of work to making the event a success, including client outreach to offer every client waiting for a final appointment the opportunity to obtain representation at the pro bono event. Larry Bertsch, CPA offered the hospitality of his office, ensuring adequate space so that every client with documents to be signed had the ability to attend.
SNSLP is hosting a second "Sign-a-thon" at its offices on December 9, 2021. Interested volunteers should contact tshaw@snslp.org to sign up to meet with clients and/or attend the free one-hour CLE program. Attorney volunteers will also be able to take advantage of additional free CLE opportunities. Attorneys can earn one CLE hour for every three hours of uncompensated pro bono service through SNSLP.
SNSLP offers its thanks to the following volunteer attorneys who made this inaugural event a success:
Abby Pace, Esq.
Amanda Netuschil, Esq.
Amy Smith, Esq.
April Anstett, Esq.
Brandon Thompson, Esq.
Dawn Cica, Esq.
Dawn Davis, Esq.
Christi DuPont, Esq.
Christian Ogata, Esq.
Dawn Davis, Esq.
James Leavitt, Esq.
Jennifer Leonescu, Esq.
Phil Varricchio, Esq.
Steve Parsons, Esq.
About the authors
Candace Carlyon, Esq. is a founding member of Carlyon Cica Chtd. and a board member of SNSLP. Her practice focuses on business restructuring and commercial litigation. She also serves as a short trial judge pro tem.
Carol Kingman, Esq. is the managing attorney at Southern Nevada Senior Law Program. She is a 2002 graduate of the Boyd School of Law, and also serves as a part-time professor at College of Southern Nevada.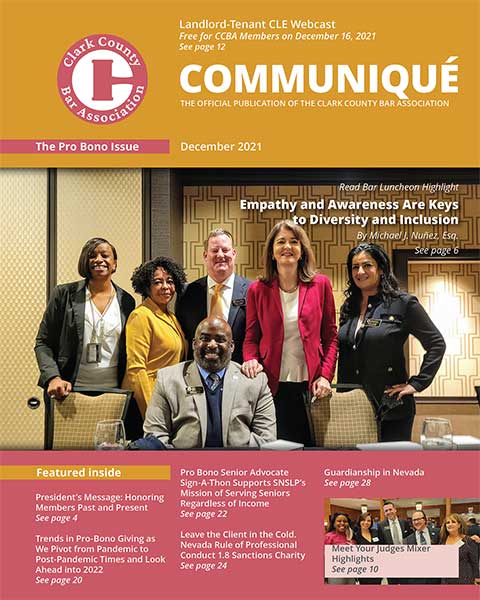 © 2021 Clark County Bar Association (CCBA). All rights reserved. No reproduction of any portion of this issue is allowed without written permission from the publisher. Editorial policy available upon request.