"Fight for the things that you care about, but do it in a way that will lead others to join you."

Ruth Bader Ginsburg
It is hard to reflect on the past two years and not think of all the financial hardships, immense emotional challenges, racial and social injustices, and overall devastation our community—and communities across the globe—faced. But as I look back, I am overwhelmed with pride to be part of such an incredible profession comprised of people who heard the call to action and fearlessly led charges demanding justice and coming to the aid of those so desperately in need.
While the pandemic created an urgent necessity for legal assistance—resulting in attorneys, paralegals, and legal advocates stepping up in a moment's notice—it also provided a much-needed pause in our daily lives and shed light on what an incredible impact we can make on the lives of others.
As we emerged from the chaos of putting out fires, law firms, as well as individual lawyers, seemed to have a heightened awareness of how critical it is to provide pro bono services not only during a global crisis, but every single day. Because of this, we are not only seeing an increase in overall pro bono hours, but there is a growing trend among law firms of engaging in strategic pro bono efforts with the goal of creating a long-lasting positive impact for generations to come. These strategic efforts involve, among others, forming partnerships and alliances with other law firms, organizations, and nonprofits to ensure we have the greatest positive impact through collaboration and concerted efforts. Where in the past, a single lawyer would volunteer to represent a family facing eviction; today, hundreds of lawyers across the country participate in a virtual, nationwide training program to assist low-income tenants. This is made possible by the Law Firm Anti-Racism Alliance and the Association of Pro Bono Counsel joining forces and leveraging their networks. Whether they are aimed at making a positive environmental impact or assisting Afghan refugees, increasingly we are seeing these types of partnerships born from necessity and the desire to create a lasting change.

During the pandemic, we also became keenly aware of the racial and social injustices facing so many in our community and the need for us to fight for equality. When the dust settled from the protests across the nation, pro bono attorneys were there to continue the charge. And this momentum has not faltered. Law firms are forging ahead and engaging in strategic efforts to combat racial and social injustice by committing to provide long-term pro bono services to victims of such injustices, and implementing internal practices, policies, and training to ensure they are providing an inclusive and diverse environment. We are seeing a movement of law firms, like my firm, that are creating diversity and inclusivity initiatives and working daily to improve the lives of so many, both inside and outside the firm.

As we all know way too well, the pandemic forced us to utilize virtual platforms to their fullest potential. While we may have suffered from "Zoom fatigue" at times, it truly opened the doors for us to provide pro bono legal services to our fullest potential. Where I previously was only able to visit my six-year-old client in my Children's Attorneys Project case on a monthly or bimonthly basis due to scheduling issues, I now have the ability to meet with her virtually every other week so I can check in on her mental well-being and physical needs. Similarly, because court hearings are conducted via remote means, we can assure our teenage clients that when they testify, they will not have to look into the eyes of their abuser. Our virtual world gives us more flexibility and opportunities to provide much needed pro bono services on a larger scale. As we look ahead to 2022 and years to come, it appears that a hybrid model is the way of the future. Still, there is no substitute for the invaluable human connections created by sitting alongside your pro bono client and facing the challenges together.

Even though there is no way to predict what tomorrow will bring, there are clearly no signs of slowing down, and our incredible legal community continues to lead the way and fight for what is right.
About the author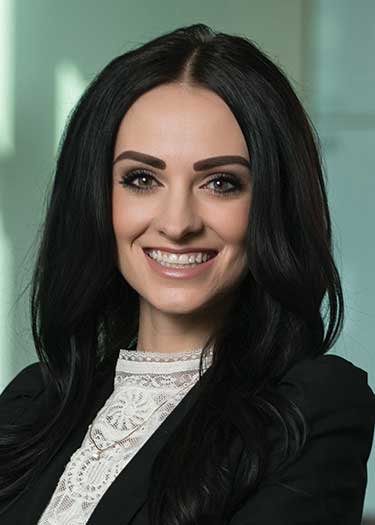 Emily Ellis, Esq. is a shareholder and serves as the Las Vegas chairperson of Brownstein's firmwide Karma Committee and as a member of the Pro Bono Committee.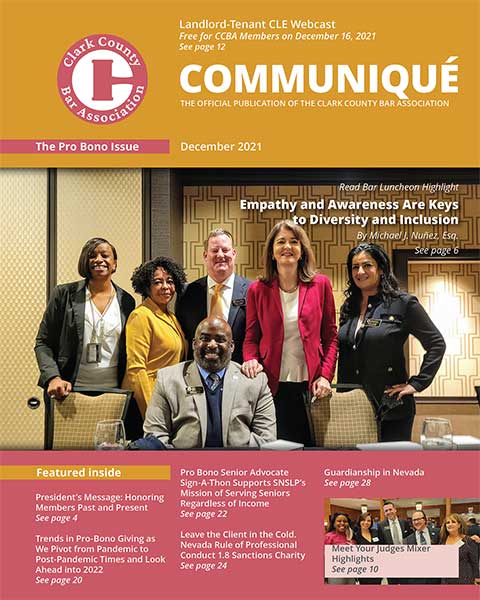 © 2021 Clark County Bar Association (CCBA). All rights reserved. No reproduction of any portion of this issue is allowed without written permission from the publisher. Editorial policy available upon request.