The Sports Law issue of the Clark County Bar's journal Communiqué (Mar. 2023) is now available online. The issue features content written by members of the bar for members of the bar. See below for a list of featured articles, columns, and highlights.
Feature articles
"Esports in Nevada" By Glenn Light, Esq. Karl Rutledge, Esq., and Salma Granich, Esq.
"Potential Pitfalls for using Third Party Vendors/Contractors for Regulated Sports Betting Software" By Eric L. Abbott, Esq.
"NIL and College Athletes – A New Era for Nevada College Sports" By Caleb L. Green, Esq.
Columns
CCBA President's Message: "Sports! Coming Into Our Own, Commercially and Artistically like Huey Lewis and the News!" By Brandon Kemble
Pro Bono Corner: "A Friendly Sections Challenge" By Paola Armeni, Esq.
Highlights
CCBA Ballet Tickets Offer
Product Liability Cases and IP CLE Program Set for March 15, 2023
Clark County Bar Committee Meetings
DICE CLE Series + a Nevada Bar Foundation Matching Challenge!
Nevada's Chief Justice Stiglich to Speak at Bar Luncheon on March 23, 2023
Suicide Awareness and Emotional Well-Being CLE Program Set for March 30, 2023
Out of the Darkness Walk
40 Year Club Luncheon Set for May 18, 2023
Law Day Event at U.S. Air Force Base Set for May 4, 2023
Volunteers Sought for OMLA's Virtual Lawyer Line
Volunteers Sought for Law Day Event at U.S. Air Force Base on May 4, 2023
Civil Bench Bar Meeting
Administrative Order 23-01 Outlines Latest Case Reassignments
Lawyer Representatives for United States District Court
Administrative Order 23-02 Regarding Guidelines for Case Assignment Transfers
Administrative Order 23-01 Regarding Judicial Authorization to Release Defendants on Their Own Recognizance
Paralegal Division of the State Bar of Nevada Welcomes New Members
CCBA's Continuing Legal Education (CLE) Library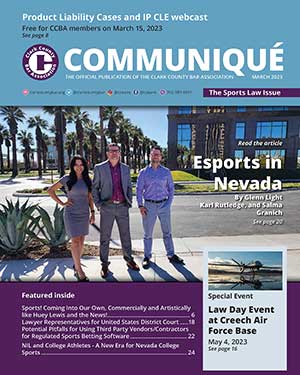 The Communiqué is primarily a printed magazine format published by the Clark County Bar Association (CCBA). Magazines were mailed on 2/24/2023. A digital version is available for download (PDF file at 3.1 MB).
© 2023 Clark County Bar Association (CCBA). All rights reserved. No reproduction of any portion of this issue is allowed without written permission from the publisher. Editorial policy available upon request.