Members of the CCBA are invited to participate in organized activities to benefit the community at large in southern Nevada. See below for a list of upcoming community service activities. Please sign up to participate in at least one of these events.
22 Warriors Foundation August BBQ Mixer
On Tuesday, August 10, 2021, from 5:30pm to 8pm, CCBA members are invited to attend a mixer and BBQ hosted by the 22 Warriors Foundation at at Las Vegas Distillery, 7330 Eastgate Road, #100, Henderson, NV 89011.
This networking event brings together local veterans, businesses, and first responders. Please register early as their monthly BBQ is a popular event. Tickets to the BBQ can be found at the link below or at the door. $10 for an online ticket or $15 at the door. Proceeds will benefit 22 Warriors Foundation, a Nevada nonprofit organization founded to help veterans.
Register at https://22-warriors-foundation.networkforgood.com/events/32014-22-warriors-monthly-2nd-tuesday-mixer-and-bbq-august-2021.
¡Andale! 5K Run/Walk! Team
CCBA members are invited to participate in the ¡Andale! 5K Run/Walk on Saturday, September 18, 2021. The CCBA Diversity and Inclusion Committee for Equity is fielding a team for this event. Join in the fun and support our team—CCBA DICE Rollers! For more info and to register to participate, see https://www.andale5k.com/. #ANDALE5K2021
Project 150 Volunteer Day
CCBA members are invited to volunteer at a group event to benefit people served by Project 150, a charity dedicated to providing free help and services to homeless, displaced, or disadvantaged high school students in southern Nevada.
Our group activity is scheduled for Saturday, September 25, 2021 (9AM-12PM). Volunteers will be sorting clothing/accessories and sorting/packing food, school, and hygiene supplies. Dress code: Comfortable shirt, pants, and closed-toe shoes. CCBA members may bring family members too. Minimum age to volunteer is 10 years old. Volunteers ages 10-13 require a guardian. To sign up to volunteer or request more information about the CCBA's group activity, contact Stephanie at the CCBA.
Tour de Summerlin Team
CCBA members are invited to participate in Tour de Summerlin, a charity bike ride to benefit Breakaway Cycling a non-profit organization, on Saturday, April 23, 2022. The CCBA's Community Service Committee is fielding a team for this event. To sign up for (or get more information about) the CCBA team,, contact CCBA Team Captain Mark Blackman.
For more info on the CCBA's community service activities, see https://clarkcountybar.org/community-service-activities/.
About the author:
Stephanie Abbott is the communications manager for the Clark County Bar Association. Stephanie serves as liaison for the CCBA's Community Service Committee.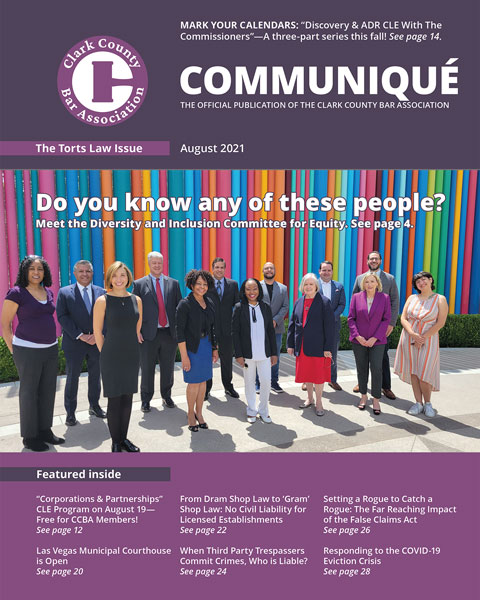 © 2021 Clark County Bar Association (CCBA). All rights reserved. No reproduction of any portion of this issue is allowed without written permission from the publisher. Editorial policy available upon request.