LAS VEGAS – (August 29, 2022) – Justice Abbi Silver has announced her impending retirement from the Nevada Supreme Court after serving nearly four years as a member of the court. Justice Silver was elected, unopposed, to the Supreme Court in November 2018, taking office January 7, 2019; she is the only judge in the history of Nevada to have been elected to every court in Nevada's court system.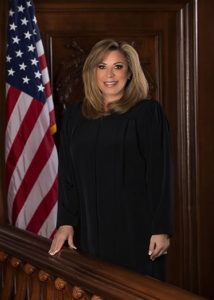 In a letter to Gov. Steve Sisolak on August 26, 2022, Justice Silver wrote she is retiring due to "unforeseen circumstances and to spend more time with my family." She also wrote "The greatest honor of my life has been to wear the black robe while presiding as a judge for almost 20 years."
Justice Silver's retirement will take effect September 29, 2022.
"Justice Silver has been my friend and colleague for over 30 years," said Nevada Supreme Court Chief Justice Ron Parraguirre. "As a colleague, I express my appreciation for her significant contributions and unwavering dedication to the Court. I will miss her thoughtful insight and spirited debate on cases. As her friend, I am proud of her numerous personal and professional accomplishments, and I look forward to an abundance of stories as this next chapter of her life unfolds."
Nevada Governor Brian Sandoval appointed Justice Silver as one of three judges to the Inaugural Court of Appeals of Nevada in December of 2014 and she was elected to the seat in November of 2016. In January of 2017, Governor Sandoval swore her in as the first female Chief Judge of the Nevada Court of Appeals. Also in January of 2017, the Nevada Supreme Court appointed Justice Silver to the Nevada Standing Committee on Judicial Ethics. Finally, in January of 2022, Justice Silver became the Chief Presiding Justice for the Northern Nevada Panel of the Supreme Court of Nevada.
In mid-September, the Commission on Judicial Selection will open the application for merit selection to fill the vacancy created by Justice Silver's retirement. The appointment will complete the term for Seat F, ending January 6, 2025. The Commission is a judicial body created pursuant to Article 6, Section 20 of the Nevada State Constitution. The Commission is charged with selecting three candidates for the Governor's review and appointment to fill judicial vacancies that occur before the expiration of a term of office in the Supreme Court, Court of Appeals, or District Court.
Chambers and duty station for Seat F will be located in Carson City.  Applications will be available on the Nevada Supreme Court website beginning on Monday, September 12.
For more news from the Nevada Supreme Court, visit their website at https://nvcourts.gov/Supreme/All_News/.