Law firms have specialized banking and accounting needs. For that reason, finding a highly experienced banker who has worked with legal clients will help your firm comply with regulations. A knowledgeable banker can also serve as a trusted advisor who will help anticipate the needs of a growing firm.
The American Bar Association outlines specific banking and accounting requirements in section 1.15 of its Model Rules of Professional Conduct, including maintaining at least two separate bank accounts: operating and escrow accounts. The separation equips your firm to safeguard funds from fraud and avoid breach of contract or other ethics concerns. Your banker should deeply understand these accounts and IOLTA accounts, which are exclusive to the legal industry. 
To keep a firm's operations running smoothly and strategic plans moving forward, every law firm should evaluate its banking and financing on a regular basis, especially in these critical areas:
Cash flow needs. Some firms receive upfront client payments, while others follow a payment plan or accept fees on a contingency basis after the case has closed in the client's favor. As a firm grows, billing models often change to adapt to client needs, which can also cause fluctuations in cash flow. As a firm expands, it is vital to have access to cash for marketing, payroll, and talent acquisition to maintain growth momentum.
Changing client wishes. Nearly half of consumers (40 percent) will only consider a law firm that accepts credit card payments, according to Clio's 2021 Legal Trends Report. In addition, more than one third (37 percent) of law firms that have posted recent growth offer online payment options for their clients. Talk to your banker to determine what payment processing system will meet the needs of your firm.
Office and real estate demands. A firm focused on growth may need to finance additional office space or a new building. A full-service bank offering a suite of services can help your firm secure a commercial real estate loan to gain the space required. 
Treasury management. This specialized business banking service helps law firms maximize their cash balances for greater returns and long-term growth. Law firm treasury management also helps streamline payables, receivables, and fraud protection, creating a more efficient process with additional safeguards. Choose a bank that offers a tailored treasury management solution that adapts to the needs of your firm.
Credit cards and lines of credit. There are several options to help your firm manage monthly expenses between billing cycles and empower attorneys or staff to make real-time purchases. A business credit card integrated with your bank simplifies credit card management and offers other benefits, including fraud protection.
Partner buyout options. Established law firms navigating growth or adapting to changing economic environments may consider a partner buyout. The process of purchasing a partner's share of the business is made easier with the right loan combined with the assistance of an experienced banker.
About this article: This article was originally published in the "Membership Matters" issue of Communiqué, the official publication of the Clark County Bar Association, (June/July. 2023). See https://clarkcountybar.org/member-benefits/communique-2023/communique-june-july-2023/.
About the author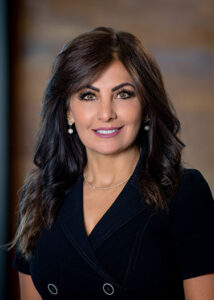 Sarah Guindy is senior director of commercial banking at Bank of Nevada, providing clients with more than 30 years of banking experience. Guindy also leads the Juris banking team, which offers tailored solutions that meet the needs of attorneys, law firms, and the broader legal community.
© 2023 Clark County Bar Association (CCBA). All rights reserved. No reproduction of any portion of this issue is allowed without written permission from the publisher. Editorial policy available upon request.