This month's issue of the Clark County Bar's journal Communiqué (Apr. 2023) is now available online.
This issue focuses on matters relevant to administrative law and features content written by members of the bar for members of the bar. The issue also includes court news and announcements about bar activities.
Feature articles
"Tips for Practicing Administrative Law" By Erin Houston, Esq.
"Challenging an Agency Rule or Regulation: Where Do You Start?" By Paul E. Larsen, Esq.
"The Office of the Labor Commissioner: What to Expect When You're in Labor [Law]" By Brett Harris
"Quiet Quitting and the Clanking Scales of Justice" by David Olshan, Esq.
Columns
View from the Bench: "The Winds of Change" By Judge Cynthia Cruz
View from the Bench: "What's New with LV Muni Court Traffic?" By Hearing Commissioner Shannon Nordstrom
Pro Bono Corner: "Pandemic Unemployment Assistance Overview and Overpayment Waiver Guidance" By Elizabeth S. Carmona, Esq.
Nevada Appellate Court Summaries (3-9-23) by Joe Tommasino, Esq.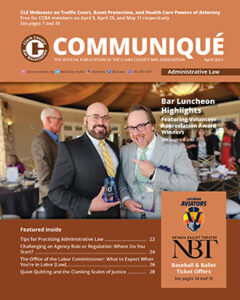 The Communiqué is primarily a printed magazine format published by the Clark County Bar Association (CCBA). Magazines were mailed on 3/31/2023. A digital version is available upon request.
Find featured content posted on the issue page at https://clarkcountybar.org/member-benefits/communique-2023/communique-apr-2023/
© 2023 Clark County Bar Association (CCBA). All rights reserved. No reproduction of any portion of this issue is allowed without written permission from the publisher. Editorial policy available upon request.