Juvenile diversion program: The Clark County Law Foundation's Trial by Peers ("TBP") program has been around since 1993 and has become a model for juvenile diversion programs around the country and in England. TBP provides Clark County youth between the ages 12-17 with a unique experience combining civic education and the juvenile justice system. Real cases are diverted from juvenile justice court to the TBP program. Participants charged with misdemeanors are tried, defended, and sentenced by their peers (teens approximately their own age) in court before a judge and with the assistance of a senior attorney. Participants that successfully complete the TBP program will have no delinquency record of their case.
New focus on restorative justice. Restorative justice is an approach to justice where one of the responses to a crime is to organize a meeting between the victim and the offender, sometimes with representatives of the wider community. The goal is for everyone to share their experience of what happened, to discuss who was harmed by the crime and how, and to create a consensus for what the offender can do to address the harm caused. Addressing a harm could take the form of restitution, apologies, anger management classes, community services, and more. The objective of restorative justice is to not only to make amends, but to also address the underlying cause with the hope of preventing recidivism.
Misdemeanor cases: TPB solely deals with misdemeanor charges against first- or second-time offenders. The "charges" are brought against a participant based upon either a misdemeanor citation issued by a police officer, or a referral made by school administration or staff. Examples of cases referred to TBP include assault, battery, petit larceny (theft), disturbing the peace, obstruction of justice, trespass, possession of alcohol or controlled substances, and bullying.
Positive impact on students: The peer counselors and advocates participating in TBP develop an understanding and respect for the law through classroom education and hands-on experience. They gain valuable insight into the inner workings of the law by working with local judges, attorneys, and law enforcement officers. They also gain valuable public speaking and research and writing skills.Finally, the peer counselors and advocates learn invaluable conflict resolution skills. A number of prior program participants have gone on to become attorneys.
Community benefits: TBP reduces the number of students removed from their primary schools by offering an administrative alternative to suspension or expulsion. Equally as important, TBP reduces the volume of cases burdening our juvenile judicial system by offering an alternative that has proven successful in lessening repeated offenses.
To learn more about TBP and/or to become a senior attorney, go to www.clarkcountylawfoundation.org.
About this article: This article was originally published in the "Five Things" issue of Communiqué (January 2023), the official publication of the Clark County Bar Association. See https://clarkcountybar.org/member-benefits/communique-2023/communique-january-2023/.
About the author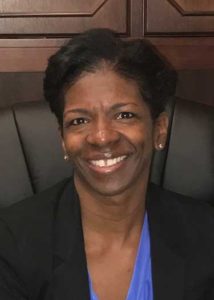 Doreen Spears Hartwell, Esq. is a founding member of Hartwell Thalacker, Ltd., a boutique firm that focuses on employment law representing management and business litigation.
© 2023 Clark County Bar Association (CCBA). All rights reserved. No reproduction of any portion of this issue is allowed without written permission from the publisher. Editorial policy available upon request.