The Clark County Law Foundation is accepting nominations for the 2021 Liberty Bell Award. The recipient(s) for the Liberty Bell Award will be awarded during a ceremony on Thursday, October 28th, 2021. Location and time will be announced at a later date.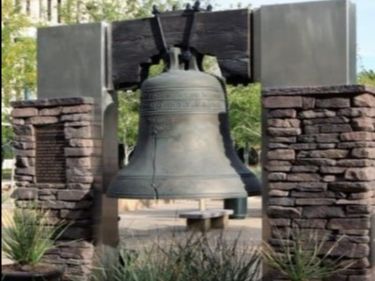 The recipient of the award is an individual in the community who upholds the rule of law, contributes to good government within the community, stimulates a sense of civic responsibility, and encourages respect for the law in the courts. The recipient's contribution should speak to the mission of CCLF, which is to empower Nevada, especially our youth, through service to the community and education about the legal system and its history.
Past recipients include Las Vegas Justice Court, Judge Karen Bennett-Haron, Ogonna Brown, Esq., Partner with Lewis Roca, Nevada's Eighth District Court Judge Linda Bell, Judge Steward Bell (Ret.), Justice Michael Cherry (Ret.), Nevada Supreme Court, Bonnie Bulla, Discovery Commissioner, Clark County, former U.S. Senator Harry and Landra Reid; Clark County District Court Judge Elissa F. Cadish (Dept. 6) and Chief Deputy District Attorney Brigid Duffy.
Nomination criteria:
Promotes a better understanding of our Constitution and the Bill of Rights
Encourages greater respect for the law and the courts
Stimulates a deeper sense of individual responsibility so citizens recognize their duties as well as their rights
Contributes to the effective functioning of our governmental institutions
Fosters a better understanding and appreciation of the law
Nominations must include:
First and last name
Address
Phone number
A brief description of this person or organization, how he or she has contributed to our community and how he or she meets the criteria mentioned above. In your description, make sure to include any organizations this person is currently involved in and what his or her contribution has been.
Submit nominations by Wednesday, September 1, 2021, to Patrick Montejano, director@clarkcountylawfoundation.org