A new year often brings change, and 2023 heralded a variety of changes to Las Vegas Justice Court, including my transition to Chief Judge.
Perhaps the largest change involved five new judges joining the bench. With the addition of a sixteenth department, our growth allowed us to expand from having two civil departments to three departments handling civil matters, including small-claims cases. We started a Resort Corridor Court and implemented smartphone-based technology for pretrial participants assigned to the Pretrial Compliance Unit. But unfortunately, not all change is good. Sadly, our court experienced the loss of former Judge Melanie Tobiasson in January of this year.
The start of the new year also brought the implementation of AB 116 and significant changes to traffic citations throughout the state. Like many other courts of limited jurisdiction, Las Vegas Justice Court has encountered numerous challenges in the rollout of AB 116 while we were still recovering from the impact of COVID-19 on our traffic matters and the volume of cases that built up. While we continue to work on resolving those issues, Las Vegas Justice Court will resume holding traffic pre-trial hearings in late March. All of the criminal departments will be handling traffic pre-trials hearings on a weekly basis, which will help to diminish the number of unresolved cases over the coming months.
Administratively, our court has transitioned into having committees comprised of judges and court staff who will work together to handle our growing internal needs. This gives the court more avenues to handle operational problems as they come up and more points of contact for the legal community to apprise the bench of procedural or operational issues.
If you would like to provide input as to procedural or operational issues in a particular area, I would invite you to reach out to me or to the committee chairs listed below:
| | |
| --- | --- |
| Committee | Chair |
| Executive | Chief Judge Cynthia Cruz |
| Civil | Judge Melissa Saragosa |
| Criminal | Judge Elana Graham |
| Pre-Trial Services | Judge Rebecca Saxe |
| Rules | Chief Judge Cynthia Cruz |
| Specialty Courts | Judge Melisa De La Garza |
| Traffic | Judge Ann Zimmerman |
Las Vegas Justice Court (March 2023)
In the interest of fostering and maintaining a culture that further enhances the public's trust and confidence in our court, it is my desire to improve communication with our justice partners so that we can continue to improve the court system as a whole. Understanding and appreciating the growing needs of our community, this means looking into how we can be more effective in our operations and how we can continue to be innovative as a court. I look forward to what 2023 will bring us and what we can accomplish while working together.
About this article: This article was originally published in the "Administrative Law" issue of Communiqué, the official publication of the Clark County Bar Association, (Apr. 2023). See https://clarkcountybar.org/member-benefits/communique-2023/communique-apr-2023/.
About the author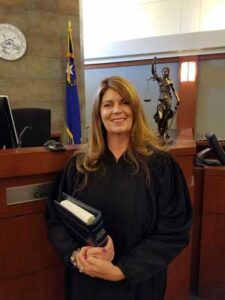 Judge Cruz was elected to Las Vegas Justice Court Department 5 in 2012 and re-elected in 2018.
© 2023 Clark County Bar Association (CCBA). All rights reserved. No reproduction of any portion of this issue is allowed without written permission from the publisher. Editorial policy available upon request.