This year, the CCBA is combining two events—the 40 Year Club Luncheon and the CCBA Annual Meeting. The combined event will be held at The Smith Center for the Performing Arts on December 2, 2021.
The main focus of the event will be the 40 Year Club. Each year, we celebrate CCBA members who have practiced law in Nevada for 40, 45, 50, & 55 years. This year, we will induct CCBA members who were admitted in 1981 to practice law in Nevada and honor members admitted in 1976 and 1971.
Inductees (Admitted 1981)
David Barron, Barron & Pruitt, LLP
James Bradshaw, McDonald Carano, LLP
David Chesnoff, Chesnoff & Schonfeld
Mark Ferrario, Greenberg Traurig, LLP
Judge David Gibson, Henderson Justice Court
P. Gregory Giordano, McDonald Carano LLP
Sal Gugino, Gugino Law PLLC
J. Randall Jones, Kemp, Jones & Coulthard, LLP
George Kelesis, Cook & Kelesis, Ltd.
Lorraine Mansfield, Reed and Mansfield
Judge Victor Miller, Boulder City Justice and Municipal Courts
Senior Judge Nancy Oesterle, Eighth Judicial District Court
Gene Porter, PrivateTrials
Dan Reaser, Fennemore
Layne Rushforth, Rushforth Firm Ltd.
Marc Simon, Simon Law, LLC
Steven Wolfson, Office of the Clark County District Attorney
Honorees (Admitted 1976)
James Armstrong, Thorndal Armstrong Delk Balkenbush & Eisinger
Walter Cannon, Olson Cannon Gormley & Stoberski
Peter James Christiansen, Christiansen Law Offices
Judge Mark Denton, Eighth Judicial District Court – Dept. 13
Richard Desruisseaux
Robert Dickerson, The Dickerson Karacsonyi Law Group
Lillian Donohue, Law Offices of Lillian J. Donohue
James Joseph Jimmerson, The Jimmerson Law Firm
Christopher Kaempfer, Kaempfer Crowell, Ltd.
John Hammes Mowbray, Spencer Fane LLP
Gerald Neal, Gerald F. Neal, Esq.
William C. Peterson, Snell & Wilmer LLP
Bill Turner, William C. Turner, Esq.
Honorees (Admitted 1971)
Stewart Bell, JAMS
Judge Kenneth Cory, Eighth Judicial District Court – Dept. 1
John Gubler, John G. Gubler, Ltd.
Jeffrey Silver, Dickinson Wright PLLC
Jeffrey Zucker, Fennemore
During the event, Master of Ceremonies Dan Polsenberg will invite inductees and honorees to comment briefly with a memorable anecdote from their careers. Due to the time constraints, comments will be limited to two minutes for each person. Don't miss this opportunity to share and catch up with colleagues!
Also, during this event, attorney members of the Clark County Bar Association (CCBA) are invited to vote in the 2021 CCBA Executive Board Election. Ballots and a ballot box will be available at the event.
For more information about the election or the luncheon event, contact Donna at the CCBA 702-387-6011.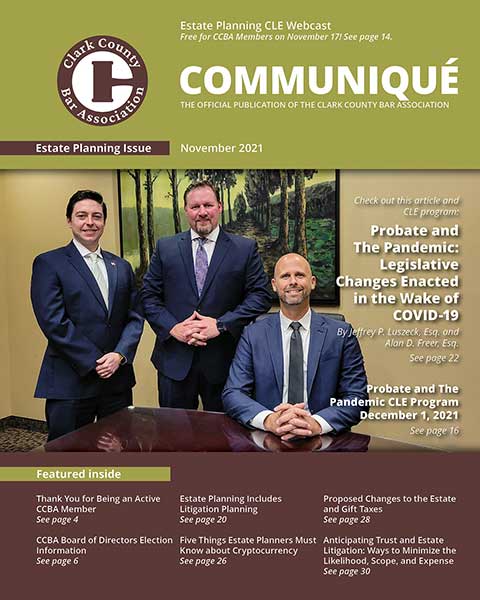 © 2021 Clark County Bar Association (CCBA). All rights reserved. No reproduction of any portion of this issue is allowed without written permission from the publisher. Editorial policy available upon request.