In the spirit of starting a new year and setting a resolution, I would encourage each of you to make a commitment to diversity and inclusion. Since this is the "Five Things" issue, here are five things to know about diversity:
Remember that diversity can mean different things to different people, but at its core, diversity is the range of all human differences. It is most often thought of in terms of race, ethnicity, gender, and sexual orientation. However, it is important to remember that it also includes, among many other things, age, physical ability or attributes, religion, and political beliefs. It is at its best, intended to be inclusive of the full spectrum of human experience.
Promoting diversity is not about mandatory quotas in hiring or promotions. Insisting on diversity is not a zero-sum game where one group gains at another group's expense.
Encouraging diversity and the inclusion of the full range of human experiences promotes the overall well-being of lawyers. Increasing diversity and inclusiveness, and having open communication about this topic, reduces feelings of alienation and improves the morale and quality of our work.
A commitment to diversity and inclusion should be about making strategic and pragmatic changes in how you run your firm that work toward leveling the playing field and addressing ingrained biases in how work gets done. Some examples of practical changes that can support a culture of diversity and inclusion: allowing for greater flexibility in where and when work is completed; creating an atmosphere that allows employees to work from home without negative consequences; encouraging a team approach to output rather than sticking to out-dated hierarchical models; exploring hiring strategies that bring a wider pool of talent through your doors; including non-partners in the hiring process and consider a hiring team or committee to provide input for open positions; and providing opportunities for communication and experiences among your employees that foster growth and understanding beyond their own experiences. There are endless practices that can be implemented to foster a culture of inclusion in your firm which will, in turn, promote diversity.
Insist on fostering a change. Insistence can sound like a demand, but I prefer to think of it as a principal or a core belief. Insisting on diversity can be about moving forward in ways that are strategic as well as pragmatic which, in turn, will result in better service to our clients, increased job satisfaction among lawyers, and overall improvement in the practice by fostering diversity within the profession.
The legal profession should be a reflection of our society. I encourage our bar to strive towards being that mirror.
About the author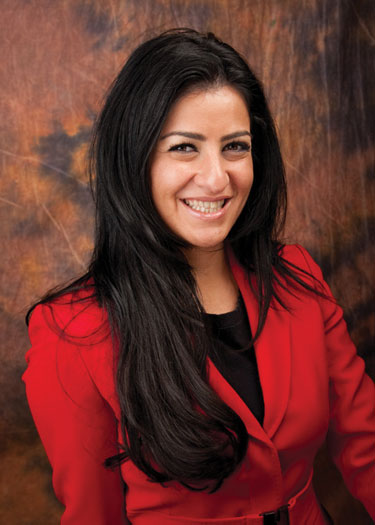 Nedda Ghandi, Esq. is a partner with Ghandi Deeter Blackham Law Office. Nedda's primary practice area involves bankruptcy for both individual and business debtors. She also litigates complex family law cases that often involve family-owned businesses or complicated financial battles. Nedda serves as the president of the Clark County Bar Association through December 2022.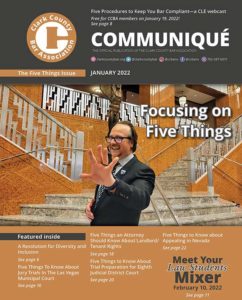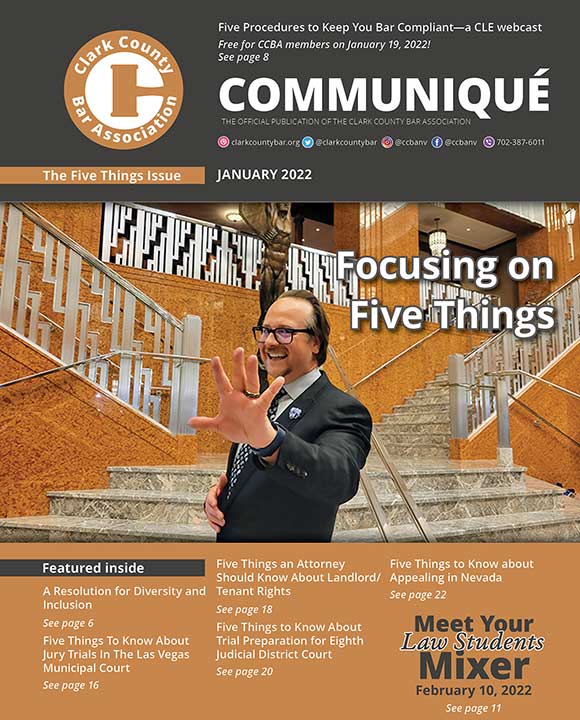 © 2022 Clark County Bar Association (CCBA). All rights reserved. No reproduction of any portion of this issue is allowed without written permission from the publisher. Editorial policy available upon request.