The November 2020 issue of Communiqué the official publication of the Clark County Bar Association, has been published.
This issue focuses on matters related to administrative law and features articles by Nevada lawyers, including:
Las Vegas City Attorney Bryan Scott
Maren Parry of Ballard Spahr
Elizabeth Sorokac and Jacqueline Walton of Reisman Sorokac
Caleb Green of Dickinson Wright
Marla Hudgens of Lewis Roca Rothgerber Christie LLP
Read their articles and find featured content from the magazine at https://clarkcountybar.org/about/member-benefits/communique-2020/communique-november-2020/.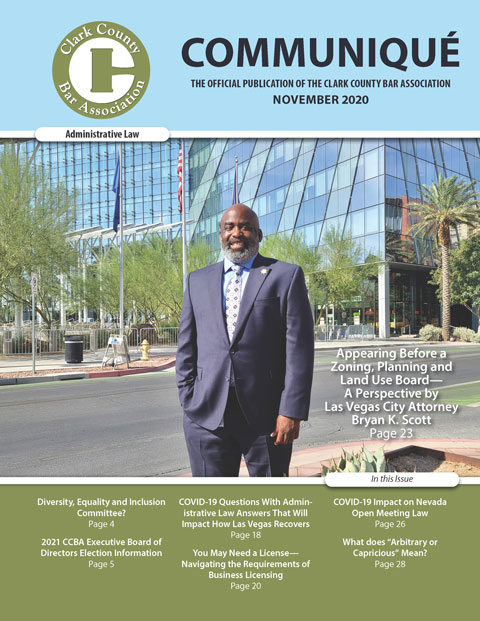 Cover image features Las Vegas City Attorney Bryan Scott.
For more information about the editorial calendar, deadlines, editorial policy, author guidelines, ad specifications, and deadlines for Communiqué, contact the publisher at Clark County Bar Association, 717 S. 8th Street, Las Vegas, Nevada, 89101. Phone: (702) 387-6011.