My first pro bono case involved a lady from Pakistan, who could barely communicate in English. She wanted a divorce from her estranged husband, who she had not seen in years. I had never practiced family law before, but she had come to me for help and I did not want to turn her away. I took the case, attended a family law CLE, and started researching "how to serve an incognito husband." I was excited and petrified, but with the help and guidance of Legal Aid Center of Southern Nevada, I was able to assist my client in getting a divorce. I congratulated myself for winning my first solo case and concluded the matter. However, what my client did next surprised me.
She stopped by my office a couple weeks after we received the divorce decree with a can of candied nuts that she had made herself. She explained that it was a special delicacy in Pakistan and the only way she could thank me was with this can full of love. I was speechless. I thought I was helping her reset her life and I expected nothing in return. But taking her case gave me much more: I learned a new area of law, managed a case solo as a relatively new attorney, and profoundly connected with a woman across a language barrier.
In these unprecedented times, where we face uncertainty and distancing as a planet, there is an even greater need to feel connected. We can do that by giving our time and expertise. The need for competent lawyers to assist indigent clients has only become more acute during this crisis. We can come out of quarantine with a greater sense of purpose, meaning, and connection if we give our time and expertise to those experiencing this crisis on top of unmet legal needs. We are all in this together.
To learn more about volunteer opportunities, contact Pro Bono Director Noah Malgeri at (702) 386-1429 or nmalgeri@lacsn.org.
About the author: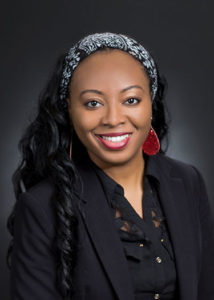 Augusta Massey, Esq. is the Managing Attorney at Massey & Associates Law Firm, PLLC, practicing in the areas of business law and bankruptcy. She also serves on the State Bar's Fee Dispute Committee and is the President of the Las Vegas Chapter of the National Bar Association.
This article was originally published in the "Family law" issue of Communiqué, the official publication of the Clark County Bar Association, (August 2020). See https://clarkcountybar.org/about/member-benefits/communique-2020/communique-august-2020/.

© 2020 Clark County Bar Association (CCBA). All rights reserved. No reproduction of any portion of this issue is allowed without written permission from the publisher. Editorial policy available upon request.