The "Law Practice Management" issue of Communiqué (May 2021), the official publication of the Clark County Bar Association, has been published.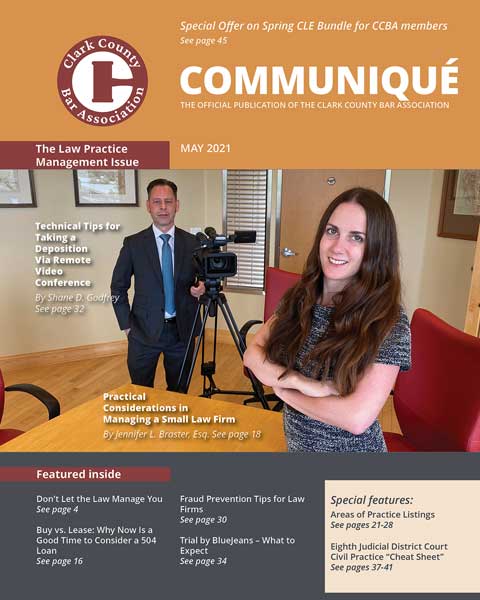 This issue features content related to the topic of law practice management, court news, and bar services, written by members of the southern Nevada business and legal community, including:
James E. Harper of Harper | Selim
Chief Judge Michael Gibbons of Nevada Court of Appeals
Sarah Guindy of Bank of Nevada
Jennifer L. Braster of Naylor & Braster
Mark D. Rich, CPA, CFF of Rich Wightman & Company
Shane D. Godfrey of Las Vegas Legal Video
Phillip S. Aurbach of Marquis Aurbach Coffing
Marjorie Hauf of H&P Law, PLLC
Stephanie Glantz of Bailey Kennedy
Joe Tommasino of the Las Vegas Justice Court
Read their articles and find featured content at https://clarkcountybar.org/about/member-benefits/communique-2021/communique-may-2021/
For more information about the editorial calendar, deadlines, editorial policy, author guidelines, ad specifications, and deadlines for Communiqué, contact the publisher at Clark County Bar Association, 717 S. 8th Street, Las Vegas, Nevada, 89101. Phone: (702) 387-6011.