The Criminal Jury Instructions Subcommittee of the Nevada Supreme Court's Statewide Criminal Rules Committee has released a new publication of criminal jury instruction templates. Nevada Pattern Criminal Jury Instructions is available as a free download through the State Bar of Nevada's online store at www.nvbar.org > "News and Publications" > "Partner Publications."
Years in the making, Nevada Pattern Criminal Jury Instructions has been compiled for use by attorneys practicing in the state. It contains more than 500 pages of templates for use in criminal jury trials.
"These pattern jury instructions are intended to address the elements of crimes and contours of the criminal law that a jury will apply to the facts. They are designed to instruct a jury what must be proven for a party to prevail. The subcommittee authored and edited the instructions from an objective point of view, with a central focus upon being as party-neutral as possible," said Second Judicial District Court Judge Scott Freeman; member, Commission on Statewide Rules of Criminal Procedure; chair, Nevada Criminal Jury Instructions Subcommittee.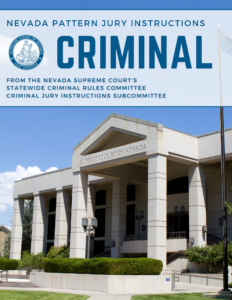 The download includes 25 chapters on several topics, such as:
Pre-trial instructions;
Duty as jurors;
Considerations of jurors;
Murder instructions;
Death penalty instructions;
Burglary instructions;
DUI instructions;
And more.