Pricing of the live webcast event is included with the 2023 CCBA membership!
On Wednesday, March 15, 2023, Eric L. Abbott will make a special presentation for the continuing legal education of Nevada lawyers in a lunchtime learning program produced by the Clark County Bar Association.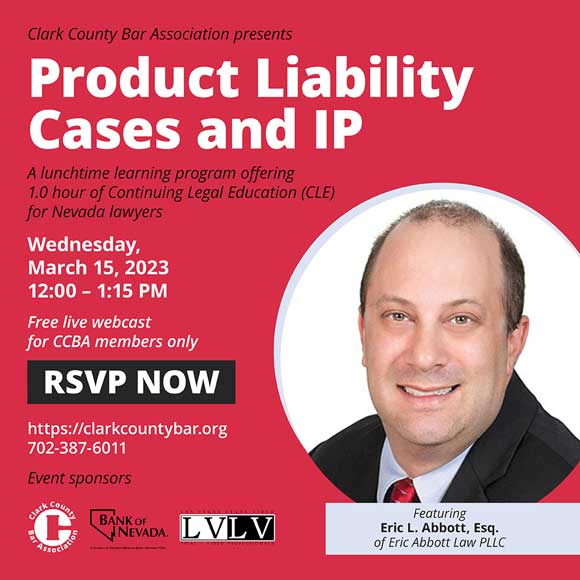 Eric L. Abbott of ERIC ABBOTT LAW PLLC is a registered patent attorney and licensed to practice law in Illinois, Nebraska, Nevada, and Pennsylvania. Eric started practicing law in Nevada in 1996 and spent the first seven years of his attorney career mostly handling various types of civil litigation matters in Nevada courts. Before opening his current practice, over the course of about fifteen years, Eric worked in-house for several different Nevada-based gaming manufactures handling, amongst other legal issues, intellectual property legal issues. Eric's current practice focuses on technology transactions, commercial contracts, intellectual property analysis, and mergers and acquisitions. Eric also serves as Alternate Municipal Court Judge for the City of Las Vegas.
Eric will present information relevant to the pre-filing investigation in a product liability case. The CLE will discuss the following topics: (1) how to spot the different types of intellectual property involved in a product liability case; (2) how to find potentially relevant records regarding this intellectual property on the Internet; and (3) how to understand the content of those records and apply it to a product liability case under Nevada law. Included in the discussion is how to identify, through intellectual property records, the legal names of the entities involved in the design, manufacture, sale, or distribution of a product in a product liability case.
The CLE program, "Product Liability Cases and IP," will be held online via Zoom, from 12:00 to 1:15 p.m., on Wednesday, March 15, 2023. The presentation will offer 1.0 CLE credit to Nevada lawyers. All RSVPs must be made to the CCBA at least 48 hours before the event starts. Pricing of the live webcast event is included with the 2023 CCBA membership. CCBA membership will be verified upon RSVP. During the event, attendance will be taken, and only those Nevada lawyers in attendance will have their attendance reported to Nevada's Board of Continuing Legal Education.
The event will be recorded for use in the CCBA's audio/visual library. The recorded versions of the program will be offered for rental use at a small fee (to cover administrative costs).
For more information and to RSVP for this event, complete the RSVP form at https://clarkcountybar.org/product-liability-cases-and-ip-cle-program/.