By Chief Judge Cynthia Cruz
Civil practice in Justice Court often varies from the practice in District Court. Here, I will illuminate some differences between the courts.
First, awards of prevailing-party costs and attorney's fees in District Court are governed by NRS 18.010 and NRS 18.020 and are not automatic. In Justice Court, NRS 69.020 and NRS 69.030 provide that the prevailing party "is entitled to costs" and "shall receive . . . a reasonable attorney fee."
Second, discovery in District Court is governed by complex procedures in the Nevada Rules of Civil Procedure (NRCP). However, discovery in Justice Court is more streamlined under the Justice Court Rules of Civil Procedure (JCRCP). For example, JCRCP 25A(b) declares that "[w]here all parties are represented by counsel, no leave of court to conduct discovery is required by any party to:
(1) Conduct no more than one deposition not to exceed one hour in length.
(2) Propound up to a total of 10 written interrogatories, including all discreet subparts.
(3) Request the production of up to 10 documents.
(4) Request up to 10 written admissions.
(5) Conduct depositions in accordance with the notice provisions under the requirements of JCRCP 30(b)(2).
Third, in District Court, NRCP 16.1(b)(2)(A) requires that an early case conference "must be held within 30 days after service of an answer by the first answering defendant." However, in Justice Court, JCRCP 16.1 does not actually require the parties to meet in an actual "early case conference." Instead, JCRCP 16.1(a) merely requires the exchange of certain documents and witness lists. JCRCP 16.1(b) mandates that, "[w]ithin 10 days of the exchange, the parties shall file with the court an early case conference report containing a list of the documents exchanged and attaching the respective lists of persons exchanged."
Finally, many attorneys are unaware that the Las Vegas Justice Court has two sets of local rules. The first is entitled "Justice Court Rules of Las Vegas Township" (JCRLV), and the second is titled "Las Vegas Justice Court Local Rules of Practice" (LVJCLRP). The Court is currently migrating all rules from the JCRLV into the LVJCLRP, but, for now, both sets of rules are in effect.
One of the most commonly overlooked local rules is JCRLV 22.5 which generally requires all motions to contain a notice of motion that contains this language in bold print and capital lettering:
NOTICE:
YOU ARE REQUIRED TO FILE WITH THE COURT AND SERVE ON THE MOVING PARTY A WRITTEN "OPPOSITION" TO THIS MOTION WITHIN 10 JUDICIAL DAYS. YOUR FAILURE TO FILE AND SERVE A WRITTEN OPPOSITION MAY BE UNDERSTOOD AS AN ADMISSION THAT THE MOTION IS VALID, AND MAY RESULT IN THE COURT GRANTING THE RELIEF REQUESTED IN THE MOTION AGAINST YOU.
Attorneys should remember that the LVJCLRP contains specific rules that are controlling for Small Claims (Part 5) and Summary Evictions (Part 6).
Both the JCRLV and the LVJCLRP can be found at this link: https://www.lasvegasjusticecourt.us/laws_and_rules___administrative_orders.php.
About the author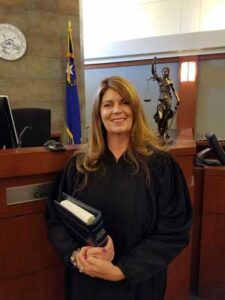 Chief Judge Cynthia Cruz was elected to Las Vegas Justice Court Department 5 in 2012 and re-elected in 2018.
About the article
This article was originally published in the Communiqué (Oct. 2023), the official publication of the Clark County Bar Association. See https://clarkcountybar.org/about/member-benefits/communique-2023/communique-october-2023/.
© 2023 Clark County Bar Association (CCBA). All rights reserved. No reproduction of any portion of this issue is allowed without written permission from the publisher. Editorial policy available upon request.