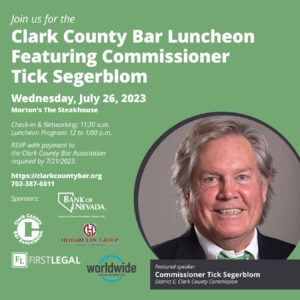 On Wednesday, July 26, 20232, Commissioner Tick Segerblom, will make a special presentation for members of the Nevada Bar during a luncheon event at Morton's The Steakhouse. Bar members are invited to attend, network with colleagues, and learn about the current challenges facing our community by one of the most effective leaders of the Clark County Commission.
Clark County Commissioner Tick Segerblom was sworn in to his first term to represent District E on Jan. 7, 2019. A third-generation Nevadan born in Boulder City, he brings a legacy of service to the residents of Nevada, serving in the state Assembly from 2006 to 2012 and as a state senator from 2012 to 2018. He is a staunch progressive on equal rights and smart growth management. His service legacy hails from his mother who served in the Nevada Assembly and his grandmother and great grandfather who also served in the state Legislature, making him a fourth-generation Nevada state representative. Commissioner Segerblom served six regular sessions and eight special sessions in the state Legislature.
Prior to politics in Nevada, Commissioner Segerblom was in the White House Personnel Office for President Jimmy Carter and was later appointed by former Nevada Governor Richard Bryan to the Colorado River Commission. He served on the River Commission from 1988 to 1990 and in 1990 was elected to a four-year stint as state chair of the Nevada Democratic Party.
A graduate of Pomona College in California and the University of Denver Law School, Commissioner Segerblom practices law, specializing in employee-employer relations. He was recognized by the American Civil Liberties Union (ACLU) in 1992 as the "Civil Libertarian of the Year" for his work on behalf of Nevada's working class. He also was chosen to receive the Nevada State American Federation of Labor and Congress of Industrial Organization (AFL-CIO)'s "Friend to Nevada's Working Families Award" in 2006. Additionally, Commissioner Segerblom served on the Clark County Legal Aid Society board and as legal counsel to the Nevada Faculty Alliance.
This Clark County Bar Luncheon is sponsored by Bank of Nevada, First Legal, Heidari Law Group, and Worldwide Litigation Services. Doors open at 11:30 a.m. for check-in and networking. The luncheon program begins at 12:00 p.m. with service set to end at 1:00 p.m.
The Clark County Bar Luncheon is open to attendance by all members of the Nevada legal community; however, space will be limited. RSVP with payment to the Clark County Bar Association is required by 7/21/2023.
For more information and to RSVP to attend this bar luncheon, contact the Clark County Bar Association. RSVP at https://clarkcountybar.org/bar-luncheon-rsvp-form/ or by calling the CCBA office at 702-387-6011.