The DICE CLE Series is funded in part by State Bar of Nevada's IDEA Grant and DICE CLE Series Sponsors + a Nevada Bar Foundation Matching Challenge.
On Friday, May 19, 2023, a special presentation of "Cultural Competency in the Legal Profession" will be made by notable members of the Nevada legal community for the continuing legal education of Nevada lawyers during a lunchtime learning program produced by the CCBA's Diversity and Inclusion Committee for Equity (DICE) and sponsored by ADAMS ESQ and The Vieira Firm.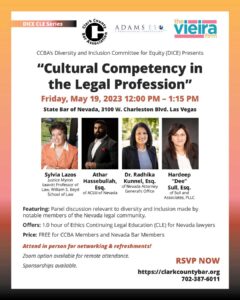 Panel presenters:
Sylvia Lazos, Justice Myron Leavitt Professor of Law of the William S. Boyd School of Law
Athar Hassebullah, Esq. of ACLU of Nevada
Dr. Radhika Kunnel, Esq. of Nevada Attorney General's Office
Moderator: Hardeep "Dee" Sull of Sull and Associates, PLLC
Topics:
Overview of cultural competency in the legal profession
Discussion of the challenges lawyers face in addressing cultural competency
Best practices for developing and delivering cultural competency
Brainstorming and ideation of ideas for cultural competency
Offers: 1.0 hour of Ethics Continuing Legal Education (CLE) for Nevada lawyers
Event information:
When: Friday, May 19, 2023, 12:00 p.m.-1:15 p.m.
Where: State Bar of Nevada (Las Vegas office) Zoom option available for remote attendance.
Featuring: Light refreshments to be served for those who attend in-person at the SBN office.
Price: FREE for Nevada lawyers
RSVP Deadline: Wednesday, May 17, 2023
During the event, attendance will be taken and only those Nevada lawyers in attendance will have their attendance reported to Nevada's Board of Continuing Legal Education. The event will be recorded for use in the CCBA's audio/visual library. The recorded versions of the program will be offered for rental use from the CCBA's Audio Visual Library.
For more information and to RSVP, see https://clarkcountybar.org/cultural-competency-in-the-legal-profession-dice-cle-program/ or contact Stephanie Abbott at StephanieAbbott@clarkcountybar.org or (702) 387-6011.