Trial Practice Boot Camp for Las Vegas New Attorneys
October 20 @ 8:00 am

-

5:30 pm

PDT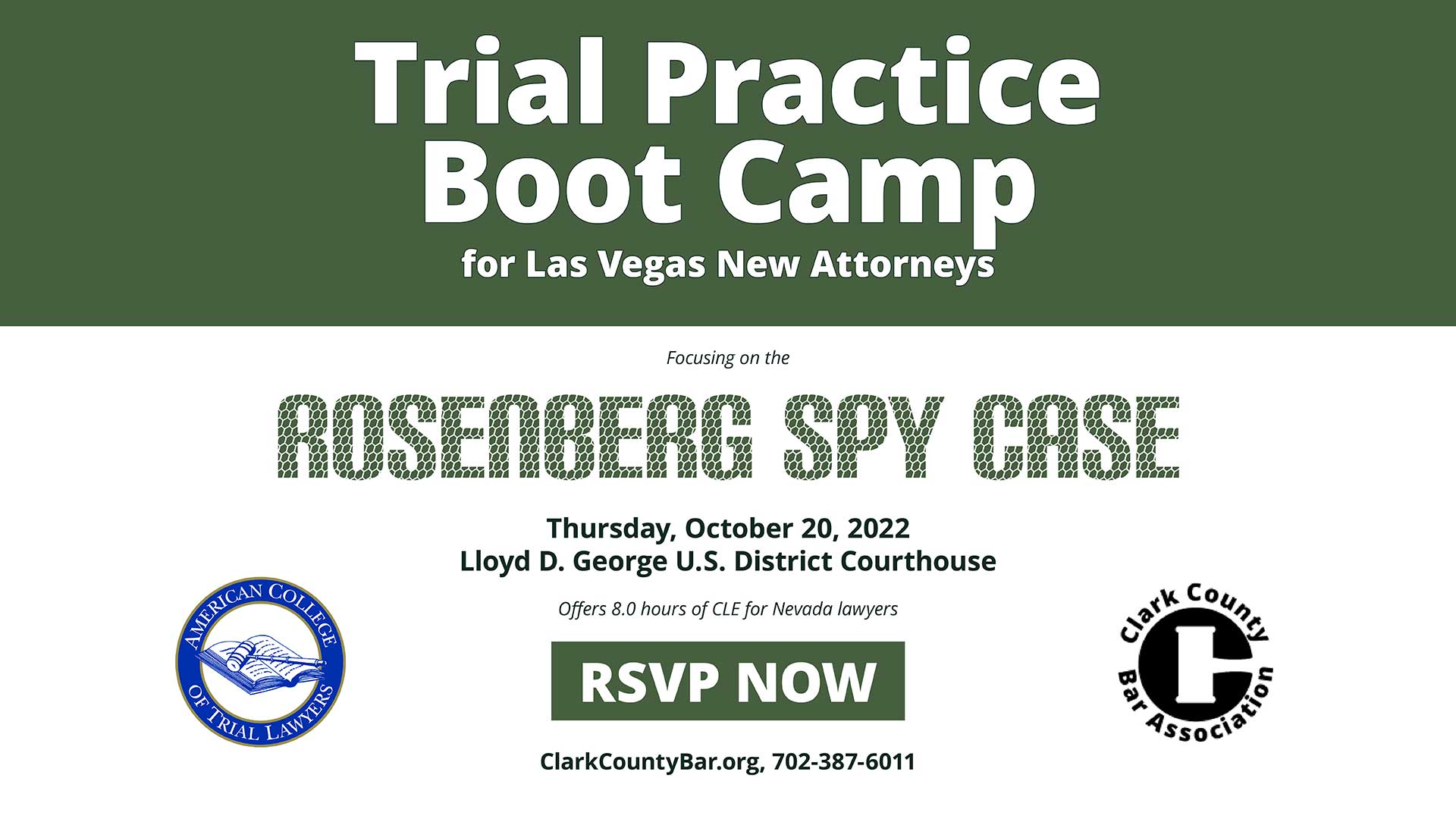 This event is sponsored by the American College of Trial Lawyers and the Clark County Bar Association. The event will be held in U.S. District Court Judge Boulware's courtroom at the Lloyd D. George U.S. Courthouse in downtown Las Vegas. Attorneys interested in attending this special event will need to RSVP with the CCBA as soon as possible. Space will be limited. To RSVP, complete the web form below.
Attendees will learn about the legal process made during the Rosenberg Spy Case. Julius and Ethel Rosenberg were American citizens who were convicted of spying on behalf of the Soviet Union. Instructors for this event will be selected from the Nevada membership of the Fellows of the American College of Trial Lawyers. The American College of Trial Lawyers will provide a link to their library of resources for all Boot Camp participants.
The event will offer a total of 8.0 hours of general CLE credit (NV). The CCBA is an Accredited Provider with the Nevada Board of Continuing Legal Education.
Agenda:
8:00 – 8:15 am Call to Order, Opening Remarks and Welcome
8:15 – 8:45 am Discussion of Case Analysis, Theory of the Case, Civility, and Professionalism
8:45 – 9:10 am Lecture: Opening Statements
9:10 – 9:40 am Demonstration of Opening Statements
9:40 – 10:15 am Panel Discussion – Critique of Opening Statements
10:15 – 10:30 am BREAK
10:30 – 11:05 am Lecture on Direct Examination
11:05 – 11:35 am Demonstration of Direct Examination
11:35 – 12:15 pm Panel Discussion – Critique of Direct Examination
12:15 – 12:45 pm RECESS; LUNCHEON
12:45 – 1:30 pm Panel Discussion: What Judges Want from Trial Lawyer
1:30 – 2:10 pm Lecture on Cross-Examination
2:10 – 2:40 pm Demonstration of Cross-Examination
2:40 – 3:15 pm Panel Discussion – Critique of Cross-Examination
3:15 – 3:40 pm Lecture on Closing Arguments
3:40 – 4:10 pm Demonstration of Closing Arguments
4:10 – 4:50 pm Panel Discussion – Critique of Closing Arguments
4:50 – 5:10 pm Concluding Lecture – Twelve Secrets of Persuasive Argument
4:50 – 5:10 pm Concluding Lecture – Twelve Secrets of Persuasive Argument