The U.S. Air Force's (USAF) Creech Legal Office hosted its first ever "Law Day" event with attorneys from the Clark County Bar Association (CCBA) on May 4, 2023. The theme for the event was "Cornerstones of Democracy: Civics, Civility, and Collaboration." Law Day took place in the Owl's Nest at the Creech Air Force Base in southern Nevada. Attendees were invited to bring Star Wars paraphernalia as the décor was "May the 4th Be With You."
Activities were planned throughout the day with presentations made by Nevada lawyers, community partners, and law enforcement agencies. A morning session with continuing legal education programs for USAF legal personnel took place in the Creech legal office. Topics covered were related to family law and landlord tenant matters relevant to Nevada. In the afternoon, volunteers from around southern Nevada were available to answer questions about Nevada law and potential recruitment opportunities.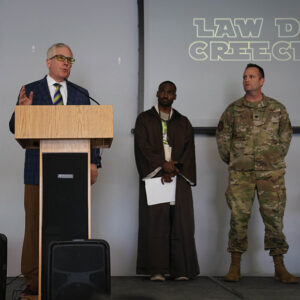 Participating volunteers from off the base included members from these organizations:
Clark County Bar Association
Clark County Law Library
Legal Aid Center of Southern Nevada
Nevada Legal Services
Nevada Attorney General's Office of Military Legal Assistance
Southern Nevada Senior Program
UNLV Law School
Federal Bureau of Investigations
Las Vegas Metro Police Department
Participating agencies from the USAF included:
Creech Voter Registration
Security Forces Squadron
Office of Special Investigation
Fire Department
First Responders
Creech Legal Office
Family Readiness
Blood Drive
Area Defense Counsel
Mental Health
Suicide Prevention
Diversity & Inclusion
Sexual Assault Response Coordinators
Exceptional Family Member Program
Chaplain Corps
First Command
Inspector General
Equal Opportunity
Creech Fitness Center
Creech Air Force Base is home to over 4,000 Airmen, civilians, and contractors.
About this article: This article was originally published in the "Membership Matters" issue of Communiqué, the official publication of the Clark County Bar Association, (June/July. 2023). See https://clarkcountybar.org/member-benefits/communique-2023/communique-june-july-2023/.
Law Day Volunteers
Special thanks to all the volunteers from our legal community who signed up to volunteer for the Law Day event at the Creech AFB.
Adam Hughes
Alex Cherup
Alyssa Aklestad
Benjamin Gordon
Brad Lewis
Brandon Kemble
Carolina Rondon Chacon
Chanteyl Hasse
Chelsea Crowton
Darcy Bower
David B. Dornak
Dawn Jensen
Debra Burgos
Drake Leifried
Gordon Goolsby
Izaac Rowe
Jennie Albarado
John Naylor
John Piet
Kathia Quirós
Kristen Schwingler
Lesa Curvey
Lin Gan
Lisa McClane
Lorien Cole
Lorin Taylor
Marc Risman
Mariteresa Rivera-Rogers
Michael Flagg
Morgan Shah
Nicholas David Michaud
Nicholas Richard Haley
Niesha Esene
Peter Aldous
Rosemarie Crowton
Stephanie Abbott
Steven Goldstein
Summer Youngquist
Todd Moody
Victoria Corey
Vincent Kostiw
© 2023 Clark County Bar Association (CCBA). All rights reserved. No reproduction of any portion of this issue is allowed without written permission from the publisher. Editorial policy available upon request.