Members of the Nevada bar, bench, law students, and supporting legal staff are invited to sit for a professional portrait during this special event at the Clark County Bar Association office.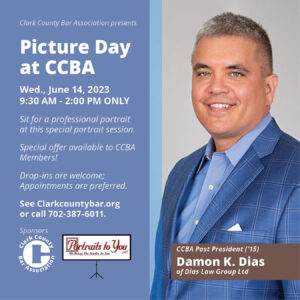 When & where:
Date: Wednesday, June 14, 2023
Time: 9:30 a.m. to 2 p.m. only
Location: Clark County Bar Association, 717 S. 8th Street, Las Vegas
Drop-ins are welcome; appointments preferred.
Appointment times:
9:30AM
9:45AM
10:00 AM
10:15 AM
10:30AM
10:45AM
11:00AM
11:15AM
11:30AM
11:45AM
12:15PM
12:30PM
12:45 PM
1:00PM
1:15PM
1:30PM
1:45 PM
2:00 PM
Attend this event for these special offers*:
20% off purchases of professional portraits for CCBA members!
No sitting fees ($49 value) for this and graduation/family portrait session
Notes:
Digital portraits taken by the professional photographer during these events will be available to purchase directly from Portraits to You. CCBA members will be offered special pricing options on products and/or services provided by Portraits to You. Portraits to You will provide the CCBA with an editorial copy of the portraits to publish in the bar journal Communiqué, on the bar's official website, online via social media accounts, and as needed by the association.