Second to the virus itself, evictions and the looming housing security crisis may be the most talked about category of the pandemic. Desperate Nevadans have been panicked and confused, navigating a complex and ever changing legal process with no time to spare due to the unrelenting timeline of our eviction laws.
So, what happened in the state where workers were hit the hardest? Our leaders stepped up to the plate. Governor Steve Sisolak declared a State of Emergency on March 12, 2020. Within days, Nevada's individual justice courts entered administrative orders closing the courts, deeming evictions non-essential and unnecessary to the administration of justice or order of our society. On March 29th, Governor Sisolak entered Declaration of Emergency Directive 008, halting all evictions and foreclosures in the State of Nevada. Notably, the federal government had already passed the CARES Act on March 25th, appropriating the first portion of what would ultimately total $365 million in federal dollars provided to Nevada for direct rental assistance.
Navigating the urgent need to keep people in their homes, the State went to work. Brand new rental assistance programs were stood up virtually overnight, utilizing whatever existing infrastructure they could to expedite services to people in need, providing rental assistance directly to landlords. On June 25th, Governor Sisolak entered Directive 025, a phased lifting of the eviction moratorium, set to expire September 1, 2020.
On July 31, 2020, the Nevada Legislature convened the 32nd Special Session. For the first time since the emergency began, our part-time state lawmakers were formally at the table, in the unenviable position of having to decide on budget cuts to slow the economic bleed. But they were also able to enact legislation to meet the State's moment of need with policy. Senate Bill 1 authorized a 30-day stay in Nevada's eviction timeline to facilitate mediation. The Supreme Court of Nevada then set to work crafting court rules (ADKT 0567, In the Supreme Court of the State of Nevada, October 6, 2020), partnering with Home Means Nevada, Inc. to train mediators and standing up a robust program to resolve cases to the benefit of all parties whenever possible.
What we know now is that Covid-19 was not letting up anytime soon. So, on August 31st, Governor Sisolak extended the eviction moratorium again, this time for 45 days in Directive 031. What we did not see coming, was an eviction moratorium from the Centers for Disease Control and Protection, taking effect on September 4, 2020. The CDC essentially paused nonpayment of rent evictions for those financially harmed by the crisis. Because there are many roads to an eviction in Nevada, loopholes in the CDC moratorium ultimately did not prove effective enough to protect everyone that it was intended to. On December 14, 2020, Governor Sisolak entered Directive 036, applying the intent of the CDC moratorium more directly and effectively to Nevada law.
On February 1, 2021, the Nevada Legislature convened the 81st Session. The moratoriums were imperative and saved countless lives, but they couldn't last forever. See "Housing Precarity & the COVID-19 Pandemic: Impacts of Utility Disconnection and Eviction Moratoria on Infections and Deaths Across US Counties", (NBER Working Paper No. 28394), Kay Jowers, Christopher Timmins, Nrupen Bhavsar, Qihui Hu, and Julia Marshall, National Bureau of Economic Research, January 2021. With the State moratorium expiring on June 1st, the Legislature created a path forward for landlords and tenants. On June 4, 2021, AB486 was enacted. Weeks before the DOJ issued guidance urging states to do so, Nevada integrated the programs distributing $365 million in rental assistance into our eviction legal processes to ensure landlords and tenants are connected with rental assistance, preventing evictions whenever possible. See Letter from Associate Attorney General, June 24, 2021. By staying cases where tenants have alerted the courts of a pending rental assistance application, families will be able to stay housed, landlords will be made whole, and the potential overwhelming of, and burden on, our courts and community social safety nets will be reduced. This is key, because the federal treasury guidelines do not allow for the dollars to be used to pay arrears where there is no longer a landlord tenant relationship, meaning hasty evictions would have hurt both parties for years to come.
The CDC Eviction Moratorium expired on July 31, 2021, but a new one with limited applicability was issued shortly thereafter on August 3, 2021. The hope is we avoid the housing crisis that has been looming as long as the virus. And when we are on the other side of this, perhaps we can enact meaningful change from the lessons we have learned.
About the author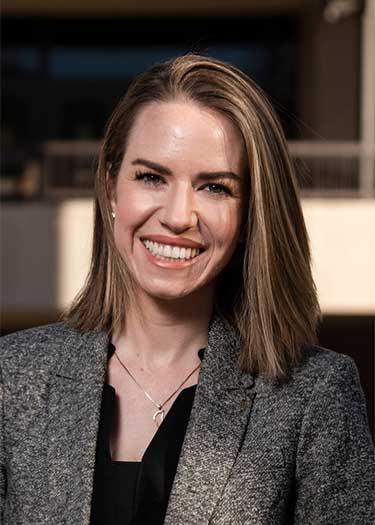 Bailey Bortolin, Esq. is the Policy Director for the Nevada Coalition of Legal Service Providers. She received her bachelor's degree from American University and her juris doctor from UNLV Boyd of School of Law.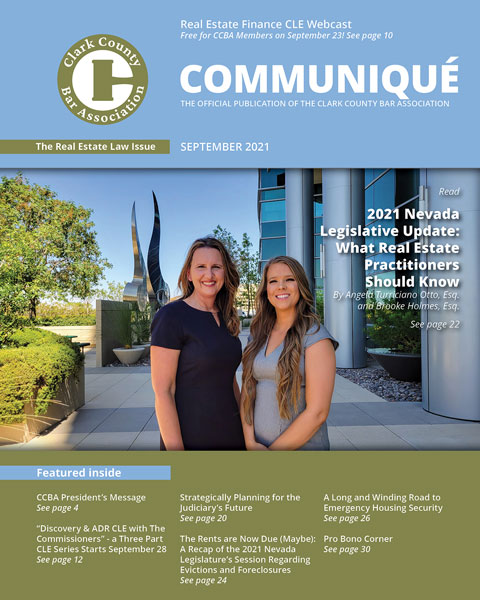 © 2021 Clark County Bar Association (CCBA). All rights reserved. No reproduction of any portion of this issue is allowed without written permission from the publisher. Editorial policy available upon request.