Here we go again. Just when we thought the return to normalcy was on the horizon, COVID-19 cases are on the rise and Governor Sisolak has reinstituted the mask mandate in Clark County and other "hot spot" counties. For me, this go-around feels different than the first mandate issued in 2020. We have navigated the new norm. We have adjusted our personal and professional lives. We have risen to the challenge. Now, as the stronger Delta Variant threatens our complete return to normalcy, our positivity must be stronger so we can continue to persevere. As stated before: This too shall pass . . . again.
After eighteen months of social distancing and virtual events, the CCBA is doing all that it can to get back to hosting live events.
On May 20, our New Lawyers Committee hosted the first in-person event in 2021. The CCBA Spring Pub Crawl was a well-attended moving social mixer for members to network and visit local bars in the historical neighborhood, the Las Vegas Arts District. Special thanks to event sponsors Litigation Services, Las Vegas Legal Video, and Leavitt Legal Services, PC.
On August 5, the New Lawyers Committee hosted the Summer Mixer & After Bar Exam Chill at Nevada Brew Works. Several future attorneys attended the mixer.
The event was a success. James L. Leavitt said, "This mixer had a great turnout! It gave recent takers of the Nevada bar the opportunity to meet established practitioners and at least one legislator in an informal setting. It was a great success and I look forward to this mixer being a lasting tradition carried on by the Clark County Bar Association."
Special thanks to event sponsors Hamilton Law and WestPac Wealth Partners. With their sponsorship we were able to offer attendees one complimentary beverage and a variety of food. Ryan Hamilton commented, "The pizza had a tangy zing."
The CCBA hosted its first in-person lunch on August 12, at MacKenzie River Pizza inside City National Arena. Chip Seigel, III, Chief Legal Officer of the Vegas Golden Knights, presented a one-hour CLE on Tips for Confronting and Playing Through Risk. It was wonderful to see so many CCBA members and it was fun to hear some stories of our Vegas Golden Knights. Go Knights Go! For highlights from that event, see page six.
Coming up, the CCBA will host more live events before the year's end. Mark your calendars now for these in-person events:
October 21, 2021 – Bar Luncheon at Golden Nugget
November 4, 2021 – 30th Annual Meet Your Judges Mixer at The Smith Center for the Performing Arts
December 2, 2021 – 40 Year Club at the at The Smith Center for the Performing Arts
December 2, 2021 – Holiday Mixer at Nevada Brew Works
It is no secret that the CCBA thrives on providing networking and educational opportunities to its members. Although social distancing has not permitted us to assemble as frequently as we used to, please accept my invitation to attend the live events the CCBA has planned for its members. Your participation is vital to us. Of course, virtual CLE luncheons and programs will continue to keep us connected. You can check out all upcoming events on pages 9, 10, 12, 14, and 15, of this publication.
Thanks to our CCBA Board for working tirelessly to continue our mission; to our members for their continued support; and, to Donna and Stephanie for being the glue that keeps us together.
About the author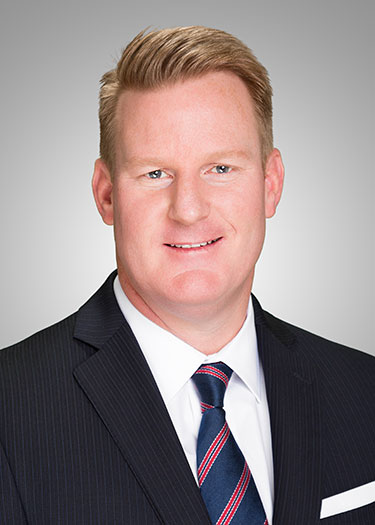 James E. Harper, Esq. is the founding member of Harper Selim, PLLC, a civil and commercial litigation firm. James's practice is focused on insurance matters, including coverage and bad faith, and appellate matters. James is president of the CCBA through December 2021.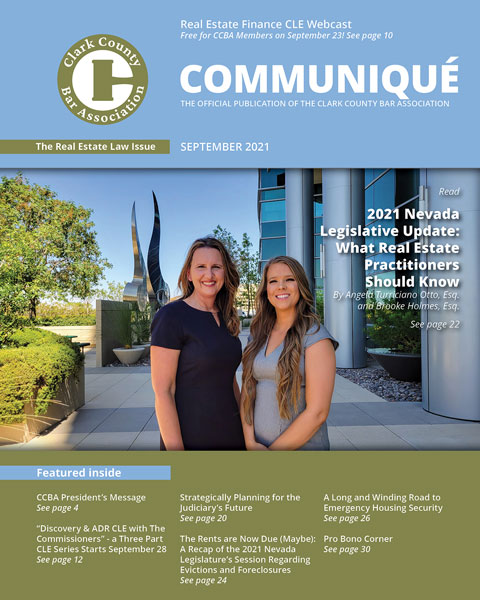 © 2021 Clark County Bar Association (CCBA). All rights reserved. No reproduction of any portion of this issue is allowed without written permission from the publisher. Editorial policy available upon request.